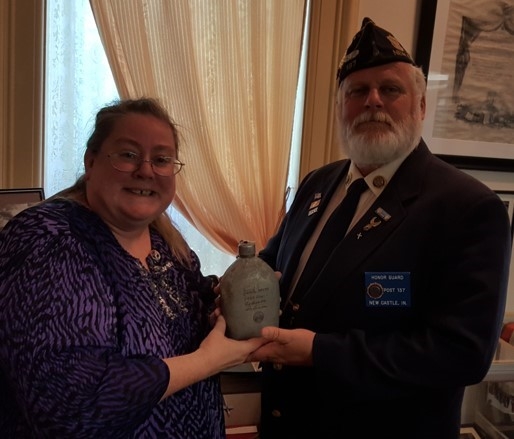 BY:

The American Legion

Jun 25, 2018
The April Centennial Celebration e-newsletter included the story of Wisconsin Legionnaire Rick Bortolotti and the canteen he was given as a child by his World War II veteran father (https://centennial.legion.org/headlines/18741/do-you-know-2nd-lt-ca-jackson-2nd-division-aef). On the canteen was printed the identification "2nd LT. C.A. Jackson, 2nd Div. A.E.F., 10/12/18."
Bortolotti was seeking to reunite the canteen with either Jackson's descendants, or an American Legion post the latter may have later joined. The story received a number of replies with possible leads, and one of them hit the jackpot.
Barry Edstene is a member of Howard R. Smith Post 137 in New Castle, Ind., and is also a volunteer at the Henry County Historical Society. The society's museum includes its own War Room stocked with World War I items, many donated by Post 137 Legionnaires (the post received its temporary charter in 1919). In his initial reply to Bortolotti he commented, "We found the obituary of Clarence A. Jackson in our historical files and found that he was instrumental in the life of our post. It does not appear that he had any children."
In early June, Bortolotti shipped the canteen to Post 137, which has in turn loaned it to the historical society to be part of its World War I Centennial display. Elizabeth Edstene, also a volunteer, has written an article about Jackson and the canteen that fills in many of the details of his life. One excerpt reads:
"Clarence A. Jackson was born in Columbus, Ohio, in 1891. His family moved to New Castle, Ind., when he was a young boy. Clarence attended New Castle schools and graduated from New Castle High School in 1910 as the senior class president. Jackson was a highly motivated and involved student, also serving as a reporter for the New Castle Courier newspaper.
Clarence always seemed to find additional jobs and sources of income, which helped to fund his start at Wabash College, where he hoped to become a lawyer. He joined the Sigma Chi fraternity, and in 1963 he was awarded their Grand Consul's Citation for outstanding service to the fraternity.
Following an illustrious career at Wabash College, Clarence worked at a number of jobs, including the Hoosier Kitchen Cabinet Company in New Castle. In 1916 Jackson married a New Castle woman, Edith Gronendyke. They enjoyed a long and happy marriage.
He left a lucrative position at Hoosier Kitchen Cabinets to enlist in the Army on June 5, 1917. Always industrious and highly motivated, Jackson rose in rank from private to captain during his military service. He was eventually put in charge of the Quartermaster Depot at Baltimore, with over 1,000 men under his command and the responsibility for millions of dollars in military supplies.
Clarence never approached any job half-heartedly. He was asked by Indiana's governor in 1933 to form the Gross Income Tax Division of the State of Indiana. He was so successful that President Roosevelt called him to Washington to form the national office of Social Security. He became chairman of American United Life Insurance Company in Indianapolis and was instrumental in building the Indiana Chamber of Commerce."
As for Jackson's history with Post 137, the article goes on to say: "Jackson served as the second post commander for the New Castle post, and was dedicated to The American Legion. He served as district committeeman and then as Legion state treasurer. In 1926 he became Indiana state commander for the Legion."
Bortolotti never learned how his father came into possession of Jackson's canteen, but as he expressed to Barry Edstene, "It's been my pleasure in bringing this piece of history back to New Castle and Legion Post 137."