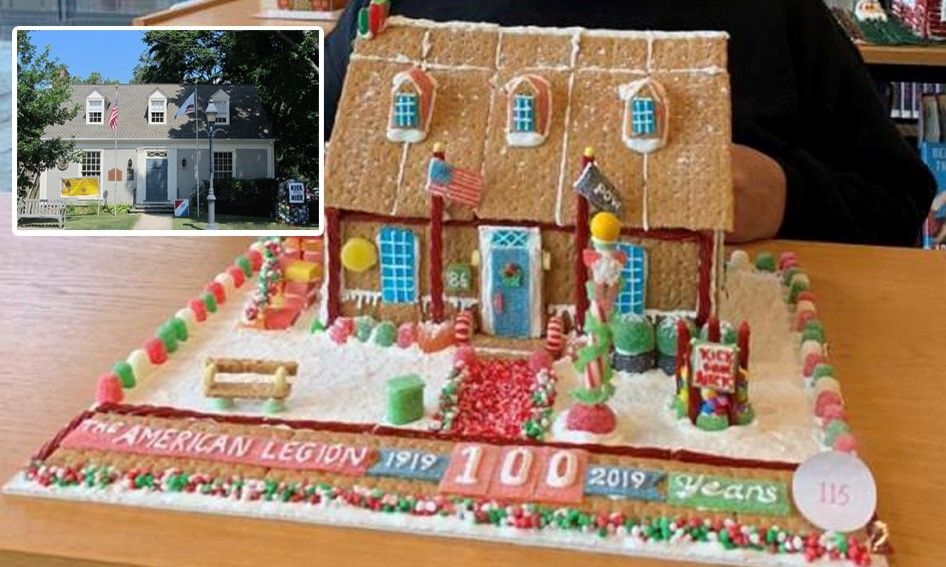 BY:

The American Legion

Dec 17, 2019
An edible gingerbread house model of American Legion James B. Whipple Post 86 is on display at the Wilton Library in Connecticut. It was created for the second annual How Sweet It Is In Wilton – Gingerbread House Contest 2019, whose theme is celebrating the past, present and future of Wilton.
The idea to choose Post 86 as a Wilton landmark for the gingerbread model was an easy one for the Stewart family.
"We follow all the wonderful community programs Post 86 offers and thought not only should it be represented at the Wilton Library this holiday season, but it was also a perfect way to celebrate the centennial (of Post 86)," said Viv Stewart.
Viv and her husband's three children have been a part of Post 86 through Scouting and the post's support of the soccer program Kick for Nick. Their son, Kace, also is a recipient of the James B. Whipple Post 86 American Legion Certificate of School Award for Distinguished Achievement. Kace, an Eagle Scout and now a freshman at the University of Michigan, "is both humbled and grateful that Post 86 chose him for such an honor, and so are we," Viv said.
It took Viv and her daughter Halli over two days to build the gingerbread house. "Everything needed to be edible and needless to say, we're happy it's still standing," Viv said. The house resembles Post 86 from the side staircase made with Starburst candy, to flag poles made of licorice with the American and POW flag, and the Kick for Nick net filled with candy to reflect soccer balls.
"What they did was fantastic," said Post 86 Adjutant Tom Moore. "They did a great job keeping with the foundation of the post. Whatever you see on the gingerbread house, if you came to our post you would recognize it immediately."
That includes the Kick for Nick sign and net which was founded by the late Post 86 member Ken Dartley in memory of Army Pfc. Nicholas Madaras.
Madaras was an avid soccer player, coach and referee in the local community. He wanted to share his love for the sport with the children in Baqubah, Iraq, that he met during his deployment. They were using tin cans as soccer balls.
He asked his family in the summer of 2006 while home on leave to send a few soccer balls so he could distribute them to the children. Madaras, 19 years old, never got the chance to do so. He was killed by an IED on Sept. 3, 2006.
Dartley read about Madaras, his passion for soccer and desire to share the sport with children in Iraq. So he approached the Madaras family and asked if he could start a program of collecting soccer balls to fulfill their son's wish. That was the beginning of the Kick for Nick program.
What started with soccer balls being collected in a net in front of Post 86 has grown to the distribution of over 55,000 balls to 53 countries. People from all over the country donate.
"We empty the net four or five times a year," Moore said. "I never knew Nick. But this program brings tears to my eyes." And the simple fact that Viv and Halli highlighted the program with the gingerbread house "is an honor" to Post 86 and the community of Wilton.
Winners of the contest will be announced before Christmas. Viv said her and Halli's "intention wasn't to win but to choose a landmark in our hometown and then have fun figuring out how to make it completely edible." After the contest, the gingerbread house will be displayed at the home of Post 86 to celebrate its centennial.