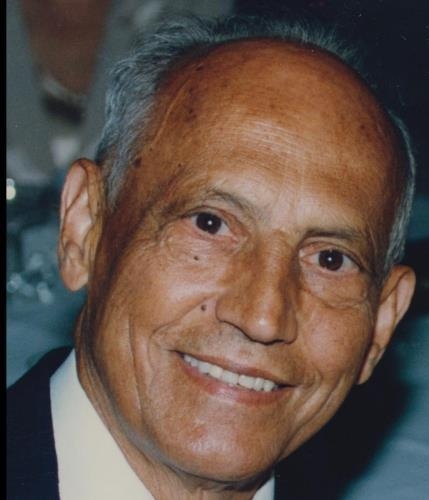 BY:

John Neri

Sep 29, 2020
Clinton, CT
COVID-19 has prevented our post from holding our planned celebration this year. We would still like to recognize the contributions of one of our past commanders.
Miguel A. Escalera Sr. came to New York from the Dominican Republic at 19 to serve in the Army against Hitler. During his illustrious career in the infantry he was awarded two Combat Bronze Stars, the Silver Star and the Combat Expert Infantry Badge, and was recommended for the Distinguished Service Cross for his heroism in fighting and capturing 125 German soldiers in Ludwigshafen, Germany on March 24, 1945. In addition he received a medal from the French government for his role in the liberation of Bitche.
Escalera has returned to France and Germany many times since the end of the war to honor comrades who never returned from battle. In 2014, he was inducted to the Connecticut Veterans Hall of Fame and the American Legion Hall of Fame and was honored by the City of New York with the dedication of a monument to the World War II Veterans of Dominican Descent, which will forever bear his name.
After the war Escalera settled his family in Clinton, Conn., and began his service to his community, veterans and the state. He served as the Agent for Veterans Affairs for the town of Clinton continuously since 1957, helping countless veterans from WWII, Korea , Vietnam and Iraq obtain veterans benefits. He has been a member of The American Legion since 1957 and was a past commander of Hilliard-Jones-Cookson Post 66. He served as a selectman in our local government and as municipal agent for the elderly for 30 years. He has assisted the elderly to obtain many services, including low-cost subsidized housing, medical services, transportation and meals at home. Escalera administered a trust that provides funds to elderly residents to assist them with utility costs. He served on our Memorial Day and Veterans Day committees since 1957. For many years he served on the Connecticut Historical Commission helping preserve our historic landmarks. No one who came to Mike in need was turned away. He was a true patriot and a hero. He dedicated his lifetime to service to his country, community and state, and has been a mentor and role model to all who knew him.