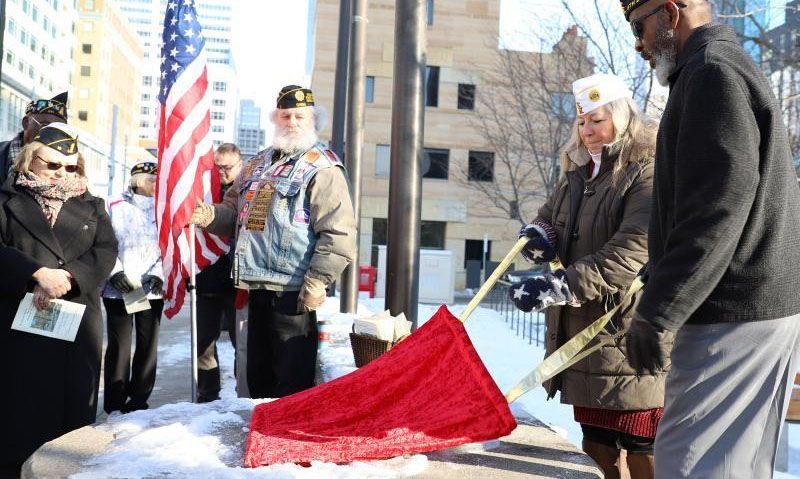 BY:

Tim Engstrom

Dec 12, 2019
The American Legion and the city of Minneapolis have a relationship going back for 100 years. That connection is now explained on a plaque at Peavey Plaza, near the corner of Nicollet Avenue and South 11th Street.
On Pearl Harbor Day, about 25 members of the American Legion Family, primarily from the 4th and 5th districts, gathered at Peavey Plaza to unveil and dedicate the plaque and to read a proclamation from Minneapolis Mayor Jacob Frey.
The ceremony had a moment of silence for military members who perished in the attacks at Pearl Harbor in 1941 and for three members of the Minnesota National Guard killed in a helicopter crash Dec. 5 about 15 miles southwest of St. Cloud.
Peavey Plaza is the site of the former Minneapolis Auditorium, which opened in 1905 and is where the first American Legion national convention took place in 1919. The structure was refurbished and became the Lyceum Theater in 1924, then razed in 1973. The site now has Minnesota Orchestra Hall and Peavey Plaza, both built in 1974.
The plaza got a makeover in 2018 and features a quarter-inch-deep wading pool. Of course, it isn't operating in the month of December. Snow, however, pools at varying depths.
The new plaque is near a 1959 plaque that commemorates the first convention. The new plaque says:
"100th National Convention of The American Legion, August 28, 29, 30, 2018. This tablet is placed in grateful recognition of The American Legion in awarding the 1st and the 100th national convention to the city of Minneapolis, Minnesota, dedicated November 11, 2019, Department of Minnesota."
The dedication originally had been slated for Veterans Day, but it was switched to Pearl Harbor Day because of availability of an honor guard and other scheduling conflicts. Past Department Commander Jim Kellogg, Dick Ward of Minneapolis Post 1 and a few others worked with the city and Twin City Monument Co. to make the plaque happen.
Kellogg read the mayoral proclamation. It declares Veterans Day 2019 "The American Legion Day in the city of Minneapolis."
Department Vice Commander Teresa Ash and 5th District Commander Andrew Rose Sr. unveiled the plaque.