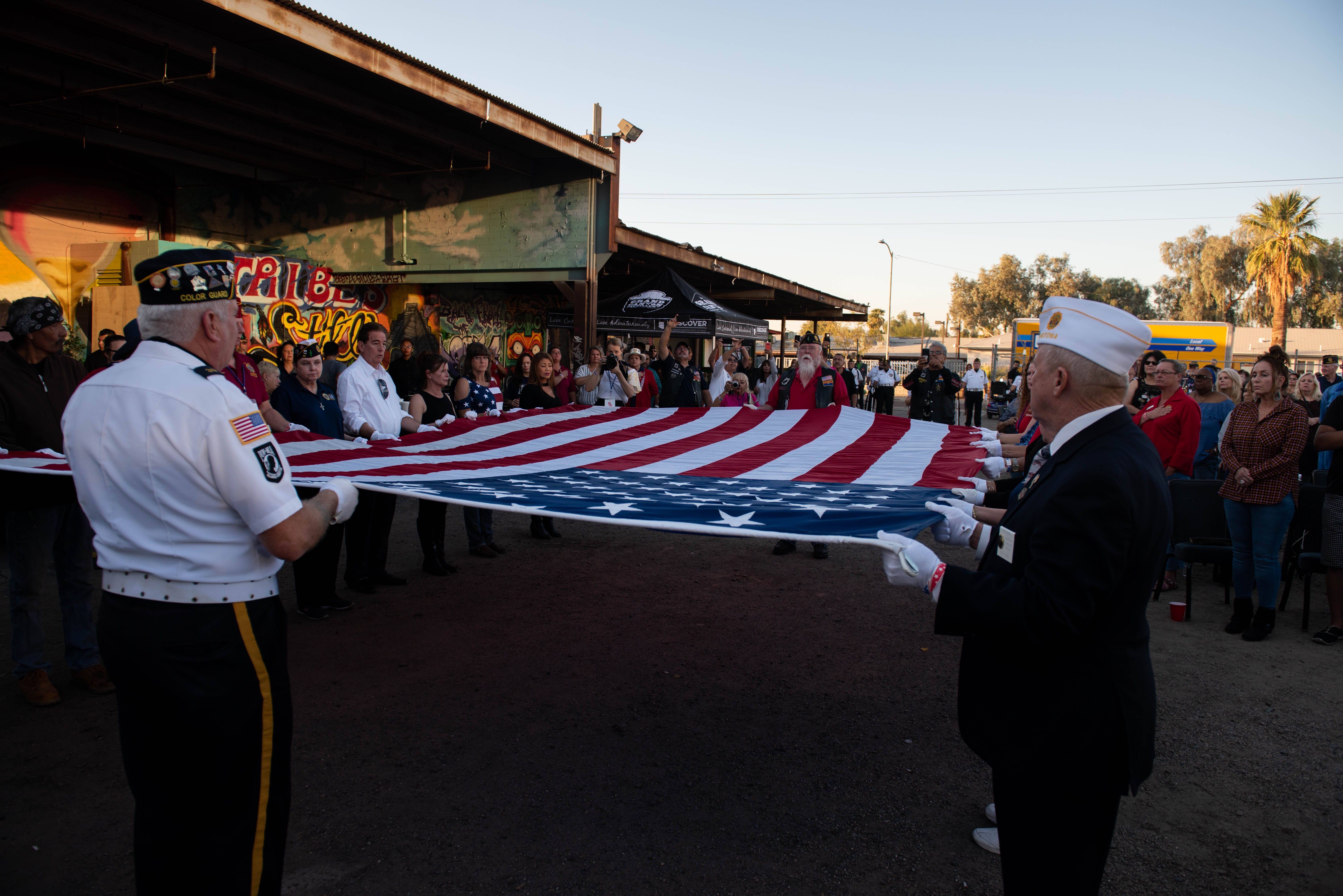 BY:

Steven B. Brooks

Oct 31, 2019
As American Legion Department of Arizona commander from 2018 to 2019, Steve Aguirre attended his fair share of American Legion centennial celebrations. And as immediate past department commander, Aguirre hasn't let up.
On Oct. 26, the Post 66 (Green Valley) Legionnaire attended his seventh centennial event, this time at an event sponsored by the departments Districts 11 and 12. Aguirre said the most recent event inspired the same emotions in him the previous six had.
"It certainly warms the heart to see that there's still the camaraderie, there's still the esprit de corps that you find in these veterans who participate and who put on these events," Aguirre said. "They do it with pride. They do it with such honor to our veterans that served way before us. We just can't imagine how it all got started back in 1919. It was merely coming back to take care of widows, the children of those widows, and certainly take care of those veterans coming back – some of them just the shell of themselves. I'm certainly proud to be a part of this great organization."
The centennial celebration took place in downtown Phoenix's Unexpected, an art gallery and event venue owned by nearby Luke-Greenway Post 1 member and U.S. Marine Corps veteran Julie Jennings, while an after-party took place at Post 1.
The main event included food, dancing and the music of The Miracles, the band that accompanied Smokey Robinson on hits such as "The Tracks of My Tears" and "The Tears of a Clown." The celebration also included a folding ceremony of a U.S. flag that has flown over the USS Arizona Memorial in Hawaii. American Legion Riders escorted the flag from the Salt River reservation to Phoenix for the centennial event. The flag is unfolded every Dec. 7 as well.
Legion Family members from all over the state, as well as members of the public, attended the celebration.
"One of our goals was to open this up to the public and getting them involved in understanding what the Legion is about, and getting a chance to circulate and mingle with Legionnaires," said Legionnaire Larry Leighton, who chaired the celebration's planning committee. "It wasn't intended to be a Legion-only party. We wanted to get our friends and neighbors involved."
Leighton, commander of Mary Ellen Piotrowski Post 94 in Sun City West, said the event's planning committee starting meeting in October of 2018, with the original plan being to have the event last May before being postponed to the fall.
Members of the planning committee on average spent "a minimum of 16 hours a month just on conference calls throughout the year," Leighton said. "It was all a cooperative effort. It really says as Legionnaires 'We've got this hat on. We signed up to do this for a reason.'"
Apache Post 27 member Ken Queen, who succeeded Aguirre as department commander, said leading the department as the Legion's centennial celebration winds down, has been "fabulous. It's been 100 years since this organization started … the past two years we've had our posts throughout the state planning their centennial celebrations. I've been to probably four of five of them just this year alone. It's wonderful seeing what these posts are doing out there. It's really a tribute to our forefathers … who really created this organization, did one heck of a job. Just to see the posts out there making the tribute … is pretty wonderful."
Seeing non-members attend the District 11 and 12 event shows that "they understand what The American Legion does for our veterans, and for our children and youth," Queen said. "I can't be more happy to see as many people as we have here tonight. It's a really great crowd."
During the event's opening ceremony, Leighton read a list of American Legion milestones over the past 100 years while also looking toward the future. "(Legionnaires) will inspire a new vision … built to serve generations of Americans to come," he said. "Success is about creating benefit for all and enjoying the process. If we Legionnaires continue to focus on this and adopt this definition of success, The American Legion will prosper for hundreds of years to come."
Aguirre said events like the centennial celebration, which expand beyond the American Legion Family, are important for the organization's continued growth. "To see everybody together as a family, that means the community and the (Legion Family) … when you see it like this, it's like an open-air picnic. Who doesn't like an open-air picnic?" he said. "That gets The American Legion out to others we may not always reach."
That The American Legion has created a legacy of 100 years puts it in exclusive company, Queen said. "I don't think there's too many corporations that have survived 100 years. There are some," he said. "It's a tribute to this organization because it stays focused on our core principles. We've stayed true to what we told our veterans we were going to do for them."