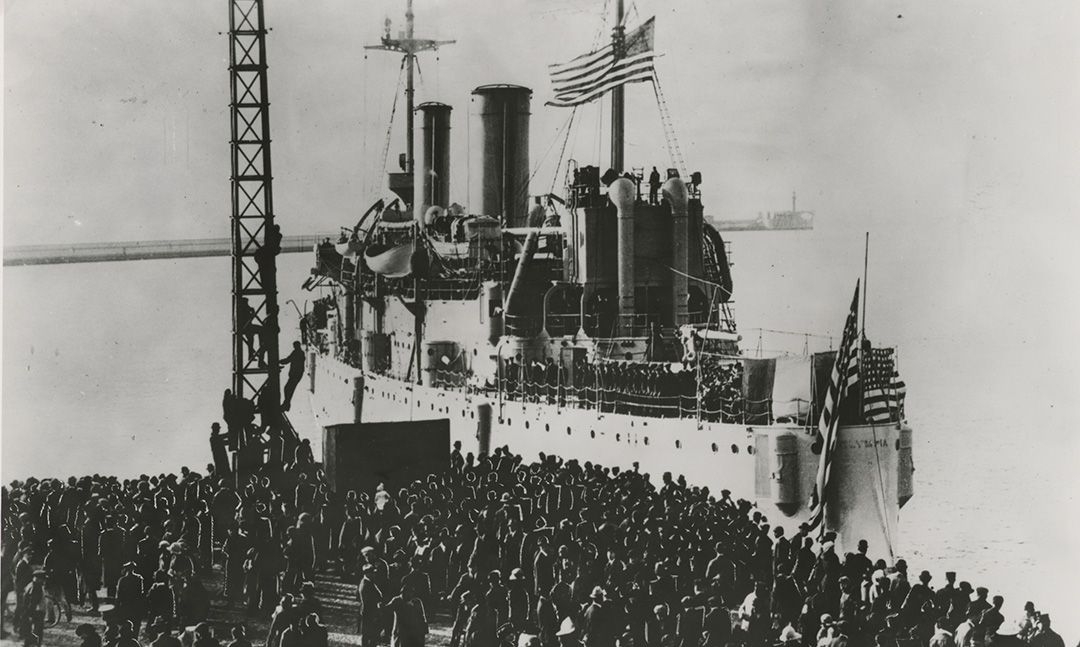 BY:

Doug Haggan

Oct 30, 2019
The four unknown soldiers came from four different cemeteries: Aisne-Marne, Meuse-Argonne, Somme and St. Mihiel. Only one would make the journey back home to the United States.
On Oct. 22, 1921, the unknowns were disinterred from each of the four cemeteries, and on Oct. 23 were transported under guard of honor by an officer to the Hotel de Ville, Chalons-sur-Marne, France. Originally, it was to be an officer selecting the first unknown soldier. But Maj. Gen. H. L. Rogers, the quartermaster general, learned that the French had used an enlisted man to select their unknown soldier, so he changed U.S. plans and ordered Maj. Robert Harbold, who was in charge of the ceremony, to pick an enlisted man to select America's unknown.
On Oct. 24, Harbold – with some French and American soldiers – rearranged the caskets, placing them in different positions around the room so that the cemetery could no longer be determined. Harbold assembled the pallbearers and then called Sgt. Edward F. Younger forward.
"You will take these flowers, proceed to the chapel, and place the bouquet on one of the four caskets resting there," Harbold ordered. "The one you select will be the Unknown Soldier." He handed Younger a bouquet of white roses. Younger entered the makeshift chapel, circled the caskets three times, and placed the bouquet of white roses on the third casket from the left.
Younger was also given the duty of escorting the Unknown Soldier. That left Harbold one pallbearer short to accomplish the mission. With a group of American Legion members assembled in the Hotel de Ville, Harbold selected one Legionnaire to replace Younger as the sixth pallbearer.
That evening, the Unknown Soldier was escorted to the train station in Chalons-sur-Marne, where a funeral train waited for the trip to Le Havre, France, to meet USS Olympia. On the trip from Chalons-sur-Marne to Le Havre, the train had to stop in Paris for the night, at which time Harbold picked three soldiers and three American Legion members to stand guard over the Unknown Soldier.
On Oct. 25, 1921, the funeral train departed Paris for Le Havre, where it met Olympia at 1300 hours.
No records can be found to provide the names of the four American Legion members – one pallbearer and three train-station guards – involved with this sacred journey. It is safe to assume, given the logistics and time necessary to travel to France from the United States, that they were members of the Department of Continental Europe.