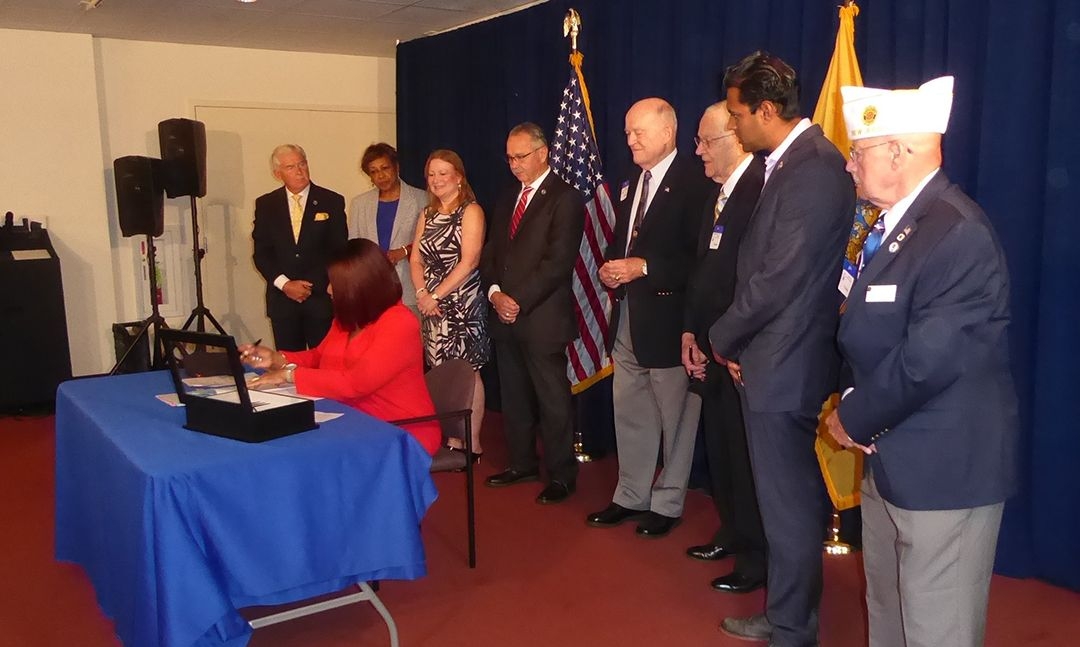 BY:

The American Legion

Sep 23, 2019
On Aug. 5, New Jersey Lt. Gov. Sheila Y. Oliver – serving as acting governor for Gov. Phil Murphy – signed joint New Jersey Assembly/Senate Bill SJR86, honoring The American Legion on the 100th anniversary of its founding.
Several Department of New Jersey officers attended, including commander Robert Newell, National Executive Committeeman (NEC) Chuck Robbins, alternate NECman Berley Hanna Jr., historian Ben Auletta, and sergeant-at-arms Alfred Wilson.
Oliver discussed the bill and the work of the Legion in a signing ceremony; see a clip here. Newell commented, "The American Legion is the nation's largest veterans service organization with 295 American Legion posts in New Jersey. Since 1919, we have supported America's servicemembers and veterans, their families and the communities we live in. We thank Acting Governor Oliver and the New Jersey legislature for their leadership and commitment of service to those who have served, those currently serving and the communities of this great state."
Robbins added, "It was good to see that the State of New Jersey recognizes all The American Legion has not only done in service to veterans of the Garden State on the occasion of our 100th anniversary, but how we have through our many great programs enriched the lives of so many of our citizens (especially our youth) in all of our communities.
"The state has also promised to continue working with the Legion in our next 100 years and hopes we continue that honorable service we do now. You sometimes think all that our organization does goes unnoticed or unappreciated, but it's quite obvious The American Legion here in New Jersey is strong."
Read the text of the bill on the State of New Jersey's website.
Above: Department of New Jersey Commander Robert Newell (right) and others view Lt. Gov. Sheila Y. Oliver's signing of the proclamation concerning the 100th anniversary of The American Legion. (Photo by Ben Auletta)