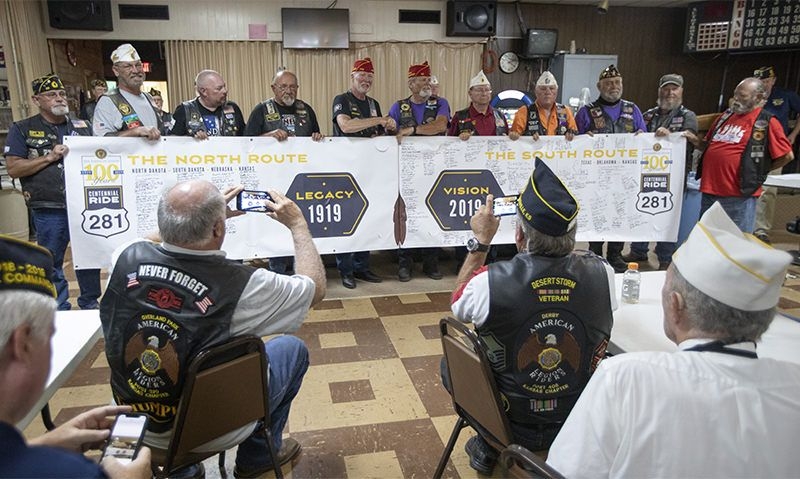 BY:

The American Legion

Aug 5, 2019
As Legionnaires before them did in March 1960, teams of wartime veterans converged Sunday in Great Bend, Kan., to recognize the American Legion Memorial Highway.
There, Team Vision joined Team Legacy to connect two halves of an American Legion Centennial banner they had carried with them on a two-leg, 1,875-mile motorcycle ride that included stops at more than 60 local posts through the heart of America.
The Centennial Ride, sponsored by the six American Legion departments through which the highway flows brought the Legion message to communities large and small, rural and urban. A car caravan of Legionnaires conducted a similar trip 59 years ago when the U.S. 281 was named to honor the organization.
Thousands followed the July 31-Aug. 4 journey online and through social media. Local newspapers, radio stations and television affiliates came to cover the various stops and the ride. Community members gathered along the streets of cities and towns to greet the Legion Riders. And local officials brought proclamations of appreciation to the riders and presented them at the post gatherings.
The completed banner, signed by post commanders along the route, and the proclamations will be presented to American Legion National Commander Brett P. Reistad onstage at the 101st American Legion National Convention Aug. 27 in Indianapolis.
"This is where the heart and soul of The American Legion reside," Past National Commander and 100th Anniversary Observance Committee Chairman David K. Rehbein said. "Community, state and nation."
Rehbein and National American Legion Riders Chairman Bob Sussan worked with department adjutants from North Dakota, South Dakota, Nebraska, Kansas, Oklahoma and Texas to plan and execute the event, which featured a visit from National Commander Reistad in Nebraska, a wreath-laying ceremony at the Fort Sill National Cemetery in Oklahoma, a gamut of weather conditions and "outstanding community and American Legion Family support," Rehbein said. Leading Team Vision from the Mexican border north was National Vice Commander Steve Sweet. National Vice Commander Jim Wallace guided Team Legacy from the Canadian border south to the rendezvous point in Kansas.
"I can think of no better way to usher in our second century, which brings the Legion's centennial message to communities in the center of our nation," said Rehbein, who joined the Team Legacy group from the second day through completion. "The message was clear along the American Legion Memorial Highway that our organization is riding into a great and bright future, driven forward by a 100-year legacy of accomplishments."
See photos and the video ride-along from the event here.