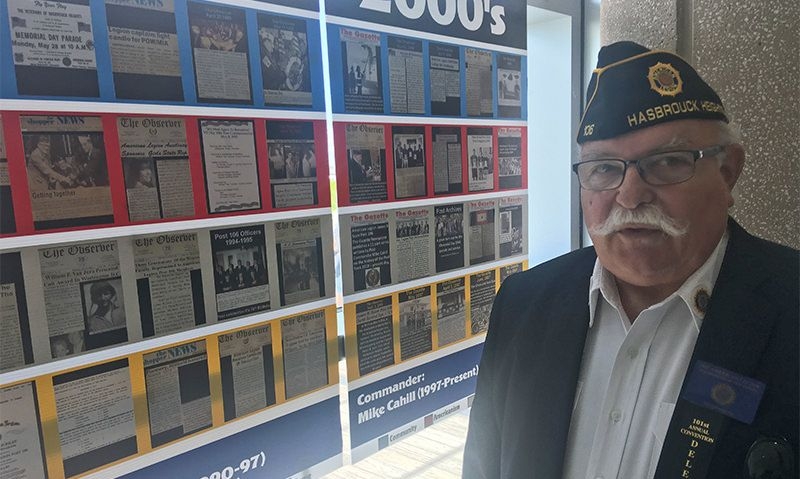 BY:

Jeff Stoffer

Jun 14, 2019
The story of James B. Scarr American Legion Post 106 in Hasbrouck Heights, N.J., is not hidden in a trunk or attic. It's on full display, having traveled the community and beyond during The American Legion's centennial year.
"To me, it's a labor of love, looking back through the history of the town," said Tom Romano, a post member and researcher who assembled 450 pages of material about Post 106 from the 1940s alone. From that material, his daunting challenge was to reduce the decade to 20 5-by-7 items for the chronology display.
"It's colorized in themes," Post Commander Pat McCarthy said of the exhibit. Red, for instance, stands for Americanism projects. Blue is the color for community services. Silver represents American Legion services, and yellow is the post's off-and-on pursuit of a physical home. Panels were designed by graphic designer Dale Sipos, a member, and repurposed for display as a big book, poster panels and a post history on legion.org/centennial. "We designed it to be small or large, depending on where it was displayed."
For the last six months, the post's history has been showcased at the Hasbrouck Heights Library. It has also been shared at the local veterans park during Memorial Day observances, a street fair in town and the Department of New Jersey summer convention.
Different members were assigned different decades to research. The post, which has gone without a physical home for several years, has been able to show artifacts, including a World War I doughboy uniform, original post and Auxiliary unit charters and a treasured signed ball from 1978 when Post 106 won the state American Legion Baseball championship. "We're a centennial post, and we are proud of that," McCarthy said.
Post members immersed themselves in the digital archives of local newspapers to unearth stories about past activities, including a fundraising minstrel show in the 1920s, a post-coordinated high school boxing match and a joint American Legion-Veterans of Foreign Wars firing squad that existed in the 1970s and 1980s. "I did not realize how closely they had worked together in the past," said McCarthy, a member of both the American Legion and VFW post in town.
"I think people have learned a lot about the post," he said of the effort. "Most people saw it at the street fair … about 20,000 people went to that street fair."
And, he added, the history his team put together this year is not going to disappear into a box or filing cabinet somewhere. "The first thing we did was digitize everything."
See Post 106's centennial page here.