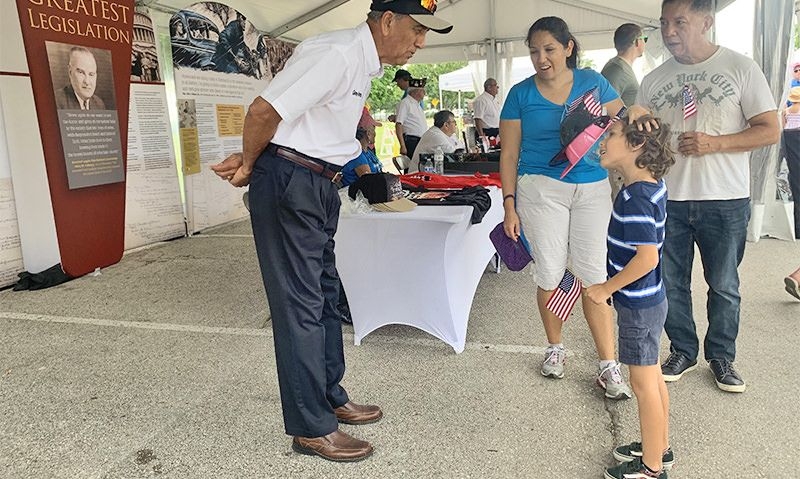 BY:

Holly K. Soria

May 28, 2019
The traveling exhibit "The Greatest Legislation: An American Legion Centennial Salute to the GI Bill" had a place of prominence at an American Legion tent during Memorial Day observances Monday in Sugar Land, Texas.
The display was added to the annual local Memorial Day line-up at the request of Jacqueline Madden, event coordinator for the City of Sugar Land Parks and Recreation Department. Madden wanted to feature a display that emphasizes the history of military service and veterans organizations. Her search led to The American Legion.
"I think the exhibit was well-received," Madden said. "I believe it caught the eye of people who might not go to a museum. In a sense, we are bringing history to them."
Program emcee, retired U.S. Army Brig. Gen. Dave Van Kleeck, recognized all American Legion members in attendance and showed a video about the organization. "We wish this organization and its membership 100 more years of excellent service to come," he said.
American Legion Texas 9th District Commander Charles Miller also spoke during the observance and urged attendees to keep veterans in their hearts all year – not just during patriotic holidays.
"There are many ways you can keep our fallen and our wounded and ill veterans in your mind throughout the year," Miller said. "It can be driving a veteran to a medical appointment, befriending a veteran who lives alone or in a nursing facility, or reaching out to the veteran who just left military service. Find ways you can help engage and be part of the effort to care for those who served. Working together with friends, neighbors and veterans groups and entire communities, we can ensure that the sacrifices made by our nation's finest and bravest never go unappreciated and their memories are never forgotten."
Madden's search for the right message also led her to Raymond Freeman American Legion Post 942 in Sugar Land.
The post has been in existence for 50 years, but the past six years has been on an arc of revival in the community, Post Commander Ralph Villarreal said.
A re-enforced connection to the existing Auxiliary unit and a new Sons of The American Legion squadron has built a foundation of Legion Family that allowed the post to send delegates to the department Oratorical competition and Texas Boys State. The post also supports local Junior ROTC units and awarded $4,000 in scholarships last year.
Thanks to a Home Depot grant, the Post 942 family is in the process of making improvements to the post home. The post has also started an amateur radio club and is looking into starting a Legion Riders chapter.
Villarreal said the GI Bill exhibit's appearance offered the post an opportunity to share The American Legion story in the community. "We're happy to be out here today," he said. "It gives us a good feeling to know that we are representing veterans here. We want to let them know that we are here to serve them."
Madden said she was thrilled to make new connections to the post, increasing her understanding of the Legion and looks forward to future activities. "It's been a really good bridge builder and relationship builder," she said. "I see them as being an integral part of out community. I think this will be the first of many projects to come."