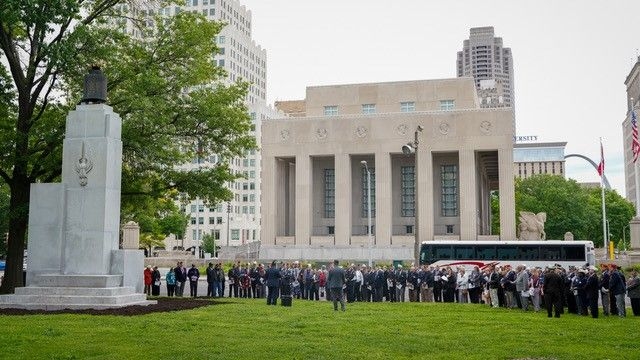 BY:

Jeff Stoffer

May 13, 2019
One hundred years earlier, to the day, nearly 1,100 veterans of the Great War were gathered in St. Louis for the first stateside caucus of The American Legion.
Fifty years earlier, to the day, then-American Legion National Commander William C. Doyle issued a letter to whoever would be his successor as leader of the nation's largest veterans organization on the 100th anniversary of its founding.
"We don't know what your world will be like, but we know it will be different from ours," Doyle wrote to the centennial national commander, who would be Brett P. Reistad of Virginia. "We wish you well, and we are confident that if in your era there is an American Legion of substance, and if there is a need for the type of service The American Legion was founded to provide, you will be providing it then, just as we are now."
American Legion Past Department of Missouri Commander Charles Goodin read the letter in a ceremony last Friday, May 10, 2019, in front of the newly refurbished American Legion memorial in St. Louis that commemorates the city's place in the infancy of the organization.
Reistad now plans to write his own letter, one to be shared with the national commander on the 150th anniversary of The American Legion.
Last Thursday and Friday, following the spring meeting of the Legion's National Executive Committee, hundreds of members and their families – representing 15 different departments across the country – poured into St. Louis for a centennial commemoration that featured Legion centennial exhibits, tours of the newly restored Soldiers Memorial and Military Museum in the city, speeches from dignitaries, a mayoral proclamation, a wreath-laying ceremony and a luncheon at the Missouri Athletic Club.
The event helped showcase the newly restored memorial and museum, which is filled with displays honoring the military contributions St. Louis has made since the Revolutionary War. The museum features multiple references to The American Legion, including the city's place in the organization's first year, through to the Global War on Terrorism.
"The St. Louis Caucus was here," American Legion Past National Commander Joseph Frank explained. "The Preamble of The American Legion Constitution was written here. I think it's awesome that people have come from all over the nation to participate in the ceremonies we are having here at the Soldiers Memorial Museum."
He said that until this year's restoration, "this museum was in jeopardy. The city didn't have the money to repair it. They tried. The Missouri Veterans Commission that I chaired would give them $1 million, but that didn't get far. We had an anonymous donor who gave $30 million. And now, this memorial and museum is back up to par, and The American Legion is certainly a part of this huge dedication."
Frank said one American Legion founder in particular was on his mind in the days leading up to the centennial celebration. "I think about Hamilton Fish – who was very active in The American Legion – who was a congressman from New York and a great person – who wrote some of the words to our preamble. There was just one change over all the years – from 'war' to 'wars.'"
He also noted that recent donations and volunteer efforts by Legionnaires restored the 1942-dedicated monument and eternal flame across the street from the museum, which now is fully accessible for visitors who use wheelchairs. "For meetings, I had to have people carry me upstairs in the wheelchair," Frank said of the memorial building prior to its restoration. "That's not the case anymore. It's totally ADA (Americans with Disabilities Act) accessible – with ramps; it's beautiful."
The museum also pays significant respect to the role African-American military personnel and veterans from St. Louis have fulfilled through the decades. William Curtis, vice commander of traditionally black Tom Powell Post 77 in St. Louis, said the Legion's early acceptance of African-American veterans "is important to us. We had a large population of African-Americans here, many of whom served previously in World War I and went overseas from here. It was important to us, that they held (the St. Louis Caucus) here. We love America, like everyone else. We want to defend it and defend our families, our country."
Curtis said Post 77 was the first of its kind to become chartered as an all-African-American post, in September 1919, decades before the military would desegregate. He said the post grew to about 1,500 members after World War I and while numbers have declined in recent years, Post 77 is now working to attract younger veterans into its ranks. "We want to continue our legacy," he said.
At Friday's public ceremony, American Legion Department of Missouri Commander Kerry Boardman told the crowd of more than 200 that "it's an honor to walk in the footsteps of 1,079 delegates – 73 of which were Missourians – who attended the first caucus in St. Louis, May 8-10, 1919, at the Shubert-Jefferson Theater, approximately two blocks away from here. The theater no longer stands, but there is a bank building there that has a plaque on the side, as a tribute to The American Legion, that it still stands on the principles of community, state and nation."
American Legion Past National Commander David K. Rehbein of Iowa, chairman of the organization's 100th Anniversary Observance Committee, told the crowd that the 1919 St. Louis Caucus established values that have withstood the test of time. "There were three rules," he explained. "We still live by those today. First, the St. Louis Caucus would be totally non-partisan; there would be no political parties operating at the St. Louis Caucus. Second, there would be no distinction based on location of service. Third, that when they went into the caucus, they would be a civilian organization. It wouldn't matter what rank you wore on your arm or your shoulder, everyone in that caucus hall was equal. Those things sound familiar because they have lasted 100 years.
"The permanent products of the St. Louis Caucus – those things we still live by today, things we still believe in – are those three original rules: non-partisan; it doesn't matter where you served; and there's no rank among us. Our preamble and constitution originally came out of that caucus. We recite that preamble every time we gather together. We remember those founders who wrote that preamble. We remember what that preamble stands for, in our recitation, every time we gather together. Those words are engraved in our hearts and our minds."
National Commander Reistad followed Rehbein's remarks with a speech that explored each line of the preamble. "As national commander of The American Legion, I suppose I'm biased," Reistad said. "But I find our preamble every bit as inspirational as the Declaration of Independence and the U.S. Constitution. In fact, if you think about it, the U.S. Constitution, as originally written, was lacking in a few regards and required some needed amendments. I'm in no way disrespecting it – just stating that it needed a bit of work before everybody was able to achieve their full rights."
He told the crowd that the four pillars of the organization's primary services have proven equally durable over the last century. "Veterans, a strong national defense, children and youth, and Americanism … those four pillars have resonated for 100 years and continue to endure because they are timeless, just like the Preamble to The American Legion Constitution, drafted here."
Sixteen-year-old Sons of The American Legion member Kirk Ucinski of St. Louis, the Department of Missouri's Eagle Scout of the Year, attended the Thursday reception appreciative of the Legion's history and legacy. "If we don't preserve and protect history now, of course it will fade," said the teenager, whose Eagle Scout project was a veterans memorial along the Meramec River near his father's American Legion post. "I think it's great we are doing that so future generations can admire what these veterans have done for us."
Sons of The American Legion National Commander Greg "Doc" Gibbs and American Legion Auxiliary National President Kathy Dungan participated and spoke during the ceremonies in St. Louis, attended also by Past National Commanders Daniel Dellinger, Thomas Bock and Marty Conatser, in addition to Rehbein and Frank.
"Good turnout," Frank explained as the events unfolded. "Legionnaires are here from all over the United States. That's a great tribute to the work that's been done. One thing about Legionnaires: when something great happens – and this is something great – they will be there."
"This is important to us – the first U.S. caucus held in St. Louis," added Department of Missouri Adjutant Lowry Finley Jackson, who organized and coordinated the event for months leading up to the celebration. "It's about us. It's about everybody." Finley Jackson has helped lead the state's Legion centennial effort and serves on the national American Legion 100th Anniversary Observance Committee, as well.
As part of Friday's ceremonies, City of St. Louis Chief of Staff Stephen Conway delivered a proclamation from the mayor's office recognizing May 10, 2019, as "American Legion Centennial Day in the City of St. Louis."
Goodin, who read the 1969 letter from National Commander Doyle to National Commander Reistad, noted that "50 years ago today, I was in Vietnam on my second tour. I feel the same pride today as those who were here 50 years ago must have been feeling, especially those who were here at the beginning, at the St. Louis Caucus."
After he read the letter and presented a copy of it on 1969 national stationery, and following the placement of a wreath by the national commander and past national commanders, participants went to the Missouri Athletic Club, which has a long history of support for The American Legion, for a luncheon and more reflections on the organization's impact over the last century.
There, National American Legion Auxiliary President Dungan of Mississippi told the crowd about her specific emphasis on female veterans this year – receiving applause from attendees – and congratulated Finley Jackson and the Department of Missouri for their efforts to put it all together. Sons of The American Legion National Commander Gibbs of New York offered a similar review of the event and greetings from the more than 370,000 members of the Sons.
"The mission they had 100 years ago is still just as relevant today," Gibbs said. "I thank God I am part of this organization and that we make it happen for our veterans, families, children and youth – because I can't imagine how it would get done otherwise. One-hundred years we have been working on this, and we're not done."
As the celebration wound down, Rehbein reflected on the enthusiasm, vitality and sense of purpose the founders had "to make a veterans organization in their image. I hope that as this group leaves here to head home that we can take a small bit of that with each of us, because we are moving into the second century. They started the first century. We start the second century. Think about those veterans. Think about what they felt as they got into cars and trains on their way home. Take a little of that with you. Remember those founders and how they felt."
The fulfillment of his message to attendees of the centennial of the St. Louis Caucus is certain to be the main topic of discussion at ceremonies on May 10, 2069, when a future national commander, one who may not yet be born, reads Reistad's greetings to a new generation of Legionnaires who, by then, will have a legacy of their own to celebrate.
Jeff Stoffer is director of the American Legion Media & Communications Division.