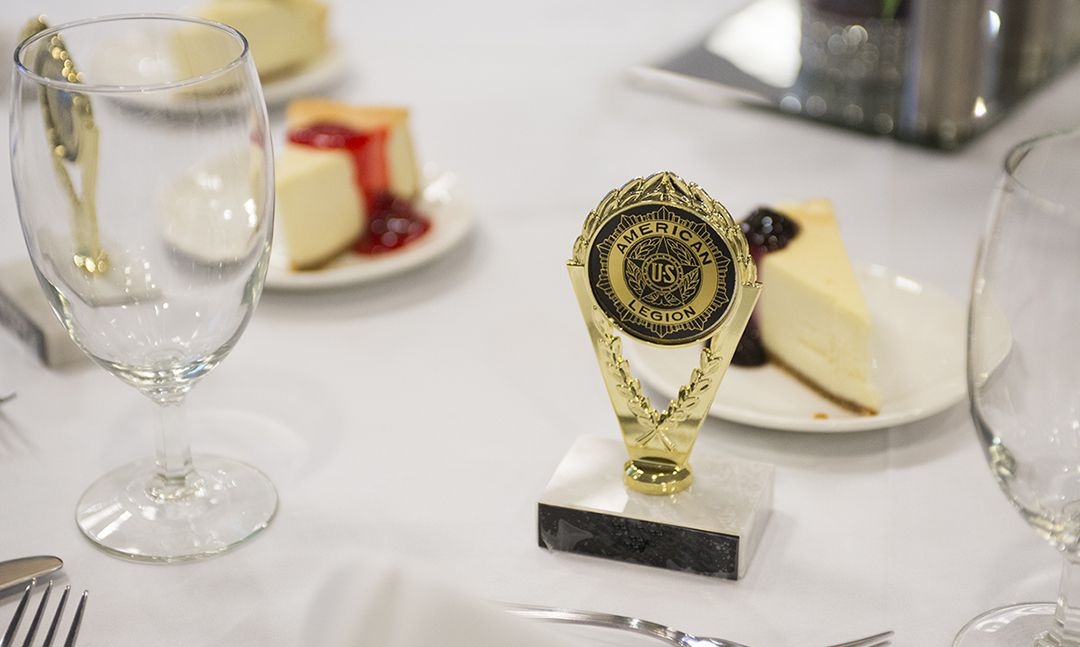 BY:

The American Legion

Mar 13, 2019
As The American Legion prepares to celebrate its 100th anniversary on March 15, American Legion posts, districts and departments are preparing to host their own centennial events for months. Some events are focusing on The American Legion's 100th birthday, while others are tying the event in with other American Legion programs.
Florida is using the latter as its way to celebrate. American Legion Riders will participate in a 100-mile ride March 16 to both honor the Legion's centennial and raise funds for Post 375 in Southport, Fla., which was destroyed by Hurricane Michael last fall. Rides are expected to take place statewide, including a ride to and from Post 10 in Kissimmee. And as part of 100th birthday activities at Post 63 in Winter Garden, Fla., American Legion members will present a flag to the father of a fallen soldier. The father's previous flag was lost in a house fire.
And in Kansas, American Legion Pearce-Keller Post 17 in Manhattan is hosting both the department's 100th birthday event and Oratorical Contest on March 16. About seven orators will compete in the morning for a chance to be named the Department of Kansas Oratorical winner and advance to The American Legion's National Oratorical Contest in Indianapolis April 5-7. Following the competition, a birthday dinner will be held with hundreds of Legion Family members. Birthday dinner remarks will be provided by Department of Kansas Commander Dan Wiley, Auxiliary President Karen Hasting and Sons of The American Legion Detachment Commander Terry Harris.
In Texas, Royse City American Legion Post 100 will host a community celebration of The American Legion's birthday on March 16 from 9 a.m. to 3 p.m. at the Military Heritage Museum. There will be free food, kids' games and activities, and free military vehicle rides. At 12:30 p.m., there will be a showing of "Sgt. Stubby," an animated movie about a World War I Army dog that became an American Legion member. Additionally, the Auxiliary unit will host a poppy coloring booth for children.
While some American Legion posts and districts already have celebrated The American Legion centennial, many events are still to come. The following is a sample of submitted American Legion centennial events and activities, listed by state. Many can be found on the Centennial Celebration site's calendar (https://centennial.legion.org/calendar). Legion Family members, posts, districts and departments are encouraged to post photos and stories of their events on Legiontown. http://www.legiontown.org/
Arkansas
Post 52 in Mountain Home will be celebrating with an open house, to include entertainment by the local Navy ROTC, information displays of what the post does for local veterans, light finger foods and attendance prizes purchased from Emblem Sales. The event is open to the entire community.
California
Sometime later this year, Post 502 in Moorpark is going to have a community BBQ to showcase and celebrate 100 years of The American Legion.
Colorado
The state's oldest post, Post 5 in Colorado Springs, is having a centennial event March 15 that includes guest speakers and a special pictorial cancellation by the United States Postal Service.
Connecticut
American Legion Post 210 in New Haven will celebrate the centennial on March 15 at Adriana's Restaurant with a family-style Italian dinner and fundraiser. Proceeds from the dinner will benefit the newly chartered American Legion New Haven Post 210.
Illinois
The department's 9th District is staging a murder mystery birthday dinner party March 15 at American Legion Post 974 in Franklin Park, Ill. Proceeds from the night will go to fund American Legion programs.
Indiana
On April 13, Major Samuel Woodfill Post 9 in Madison will have a centennial celebration birthday party that will include dinner, live music and door prizes.
Maryland
• American Legion Post 22 in Towson is celebrating with a black tie event on March 15 that will include a live band.
• Randolph Furey Post 170 in Accokeek is celebrating The American Legion centennial March 30 with a dinner and dancing.
Massachusetts
• Granby American Legion Post 266 in Ludlow is partnering with Western Mass Combat Wounded Veterans Chapter 875 and Veterans of Foreign Wars Post 3236 for an American Legion 100th anniversary celebration on March 23.
• On March 31, Post 223 in Duxbury is kicking off a year-long celebration with an event that will include the U.S. Army Field Band and Chorus at the Duxbury Performing Arts Center.
• American Legion Post 86 in Braintree already has been conducting several segments on the community's World War I veterans that have appeared on local television. On March 16, the post will turn the research it's gathered on those veterans over to the Braintree Historical Society. And on June 15, the post will have a dinner dance for the public.
• American Legion Post 76 in Jamaica Plain will be leading the South Boston St. Patrick's Day Parade on March 17 and will have an indoor-outdoor family day for the community on April 27.
• The Department of Massachusetts American Legion Centennial Celebration will take place June 15 in Spencer and will include a parade and a family fun day with activities at the Spencer Fairgrounds.
Minnesota
American Legion Post 333 in Kasson will celebration The American Legion's birthday with a cake-and-coffee open house. The event also will include music and a patriotic film festival that will feature "Hacksaw Ridge" and "American Sniper."
Nebraska
On June 15, Post 169 in Campbell is having a community-wide event celebrating the 100th anniversary of The American Legion. Some of the plans in the works are a parade, a softball game, games in the park, an antique car and tractor show, a craft show, and an evening program honoring the Legion with slides, music and skits.
New Jersey
Post 18 in Weehawken will have two centennial events in July: A formal dinner at the Weehawken Elks on July 18, and a July 20 waterfront concert.
New York
• The Richmond County American Legion will stage a birthday celebration on Staten Island March 15.
• Post 1231 in East Greenbush is having a 100th Anniversary Celebration/St. Patrick's Day Dinner on March 16 that will feature corned beef, ham and cabbage; music and dancing; door prizes and an auction.
• Post 87 in Dansville will have a birthday party on March 23 that will include Gold Star Mother Stephanie Gleason and members of the New York state legislature.
• American Legion NYC Police Post 460 is having its 7th Annual Independence Day Military Ball and Centennial Celebration in New York City on July 11. Approximately 400 veterans and law enforcement personnel will be in attendance with their family and friends. The event raises funds for two Post 460 programs: Veteran Building Skills and Family Involvement, which bridge the gap between veterans, families and their community for a healthy transition to civilian life.
Ohio
On March 23 in Beverly, Russell Chadwick Post 389's Legion Family is teaming up for a centennial celebration that will include hors d'oeuvres, and a prime rib dinner with a USO-style show and awards ceremony.
Oregon
Willamette Falls Post 5 has set up an exhibit at the local museum to commemorate the 100th anniversary of The American Legion.
Pennsylvania
• Post 177 in Newport is teaming up with Post 364 in Liverpool for a vintage carnival Sept. 7-8 at Newport Fairgrounds. The focal point will be a "Veterans Row," which will consist of canopies on either side of a causeway housing all the local Legion posts, VFWs, AMVETS, DAV, a VA service officer, reps from VA hospitals, and military recruiting stations. In addition, there will be games, bounce castles and more.
• On July 13, Post 790 in Smithton is having a memorial service program and will take part in a parade with the Smithton Volunteer Fire Department is honor of The American Legion's 100-year centennial.
Tennessee
On March 24 in Nashville, Post 5 is planning a sit-down dinner and dance. A 21-piece orchestra will provide the music, while historical pictures will be on display. The event is open to all veterans and friends of veterans.
Texas
• American Legion Post 350 in Needville is having a March 29 fish fry that will include U.S. Army veteran and Fort Bend County Sheriff Troy Nehls and Needville Mayor Ernie Stuart.
• In Missouri City, Post 294 Legion is using the Legion's 100th birthday to combine with one of its members' 100th birthday. The event will take place April 2 and will honor Edward "Ed" Gibbons. He will be presented with a proclamation in recognition of his 100th birthday.
• In Longview and Kilgore, American Legion Posts 232, 140 and 280 will host an event May 4 that will include guest speakers, a short re-enactment of the beginning of the Legion, food, booths set up by the VA medical center clinic, a Veterans Resource Center, a Veterans Recognition Foundation and the county veteran service officer. Each post will display historical articles it has.
Virginia
The Department of Virginia is hosting a black tie centennial celebration March 23 in Richmond. The event is expected to draw more than 300 and will include dinner, dancing, live music and a recognition of World War II veterans in attendance. Maj. Gen. Tim Williams, state adjutant general and an American Legion member, is the guest speaker.
Wisconsin
• Post 440 in Clinton is hosting a centennial open house March 23 that will include historical uniforms and other items on display.
• On July 27, Post 13 in Richland Center is having a centennial celebration that will include a remembrance walk/run, a motorcycle and UTV poker run, and euchre and corn hole tournaments. A formal ceremony will take place that evening and will include the dedication of a memorial stone for Korean War MIA and Richland Center native Ralph Verlin Jackson.