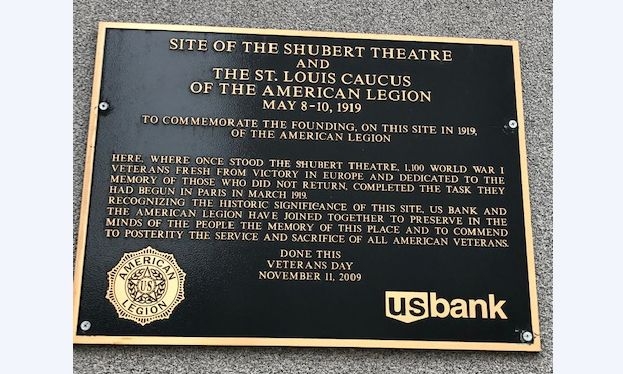 BY:

The American Legion

Apr 16, 2019
The American Legion's first U.S. organizational meeting is approaching its 100th anniversary in early May, and the Department of Missouri is planning a two-day event to mark it.
The 100th Anniversary Celebration of the St. Louis Caucus will be held in St. Louis May 9-10, directly after the Spring Meetings May 6-9 at American Legion National Headquarters in Indianapolis. May 9 will see a reception at the downtown Soldiers Memorial at 6 p.m. The GI Bill exhibit that has been traveling the country will be present for a few weeks' residency there. An American Legion Monument dedicated in 1942 stands nearby; plans for the celebration include a wreath-laying at the site. On May 10 at 10 a.m., a formal celebration at Soldiers Memorial will be followed by a luncheon at the downtown Missouri Athletic Club; part of the 1919 caucus took place at the club. Speakers will include the leaders of the three American Legion Family organizations: National Commander Brett Reistad, Auxiliary National President Kathy Dungan and Sons National Commander Greg "Doc" Gibbs.
The entire Legion Family is welcome at the celebration. A room block has been reserved at the Missouri Athletic Club. Reservations for the luncheon are $35 per person; RSVPs are needed by April 18. Visit the department's events page for more information on making arrangements.
Department of Missouri Adjutant Lowry Finley-Jackson, a member of the Legion's national 100th Anniversary Observance Committee since its formation in 2011, said that the purpose of the caucus event is twofold: "Remembrance of what went into starting the Legion – the Preamble was adopted here – and celebration of the future."