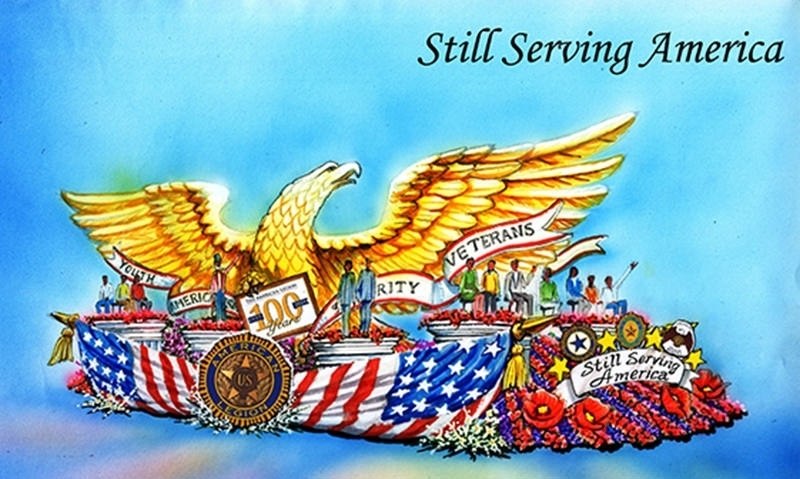 BY:

The American Legion

Dec 7, 2018
The American Legion will occupy a prominent position in the 130th annual Tournament of Roses Parade Jan. 1 in Pasadena, Calif.
The American Legion will have the third float in the parade, directly behind the Marine Corps band.
National Commander Brett Reistad, Sons of The American Legion National Commander Greg "Doc" Gibbs and Auxiliary National President Kathy Dugan will be among those riding the float. Four Medal of Honor recipients — Hershel "Woody" Williams, Ron Rosser, Walter "Joe" Marm and Britt Slabinski — will also be riding the float.
In the days leading up to the parade, a delegation of American Legion Family members and youth program participants will decorate it. On Dec. 30, the float will be judged along with others in the parade.
Also on Dec. 30, American Legion Post 13 in Pasadena will host a special black-tie event where Reistad, the four Medal of Honor recipients, other American Legion Family leaders, youth champions and others will be present.
The event begins at 7 p.m. at the Legion post, 131 N. Marengo Ave. in Pasadena. For ticket prices and more information, call 626-792-2158 or email oldtownpost13@gmail.com. To register, please visit here.
The Rose Parade will be broadcast live beginning at 8 a.m. PST. The parade is televised on ABC, NBC, Hallmark Channel and others. Check your local broadcast listings for more information or visit www.tournamentofroses.com.