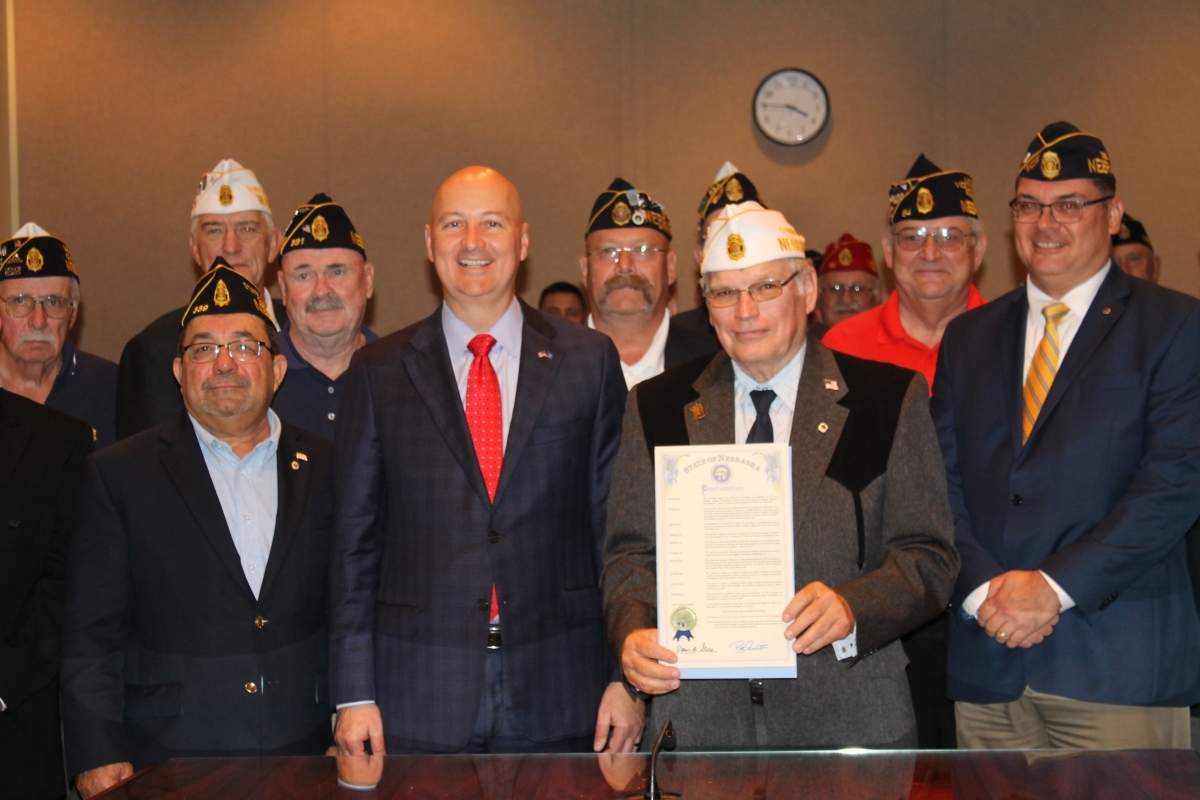 BY:

Jennifer L. Salak

Oct 29, 2018
In a packed room at the historic State Capitol in Lincoln, the Department of Nebraska kicked off its Centennial Celebration on Sept. 17, 2018, with a little help from Gov. Pete Ricketts. Joined by nearly 100 Legionnaires, including Department Commander Lyle Bartels and Nebraska Department of Veterans' Affairs (NDVA) Director John Hilgert, Ricketts signed a special proclamation dedicating the next year in the state of Nebraska as the "Year of The American Legion."
According to Ricketts, a longtime supporter of Nebraska's veterans, signing the proclamation provided an opportunity to thank Legionnaires for their service and bring awareness to an organization that has continued to serve the Nation and communities since it was chartered by Congress nearly 100 years ago.
The proclamation, drafted by Department Adjutant Dave Salak, highlights the impact the Department of Nebraska, consisting of nearly 31,000 Legionnaires in 359 local posts, has had throughout the state including: serving as the sole sponsor of Cornhusker Boys State for nearly 80 years; maintaining the third-largest American Legion baseball program in the nation with nearly 300 teams participating; sponsoring the first American Legion Junior Law Cadet Program in the country; and awarding nearly $10,000 a year in educational scholarships to high school and Reserve Officer Training Corps students.
Now that the "Year of The American Legion" has officially begun in Nebraska, Legionnaires are working hard on developing events that celebrate the past 100 years and showcase the organization's continued commitment and vision for the next 100 years.
Additional photos from the proclamation signing can be viewed at governor.nebraska.gov/press/gov-ricketts-signs-"year-american-legion"-proclamation.
For the latest information on the Department of Nebraska, including planned Centennial events, visit www.nebraskalegion.net.
Jennifer L. Salak is Nebraska's department historian and Centennial Committee chairman.