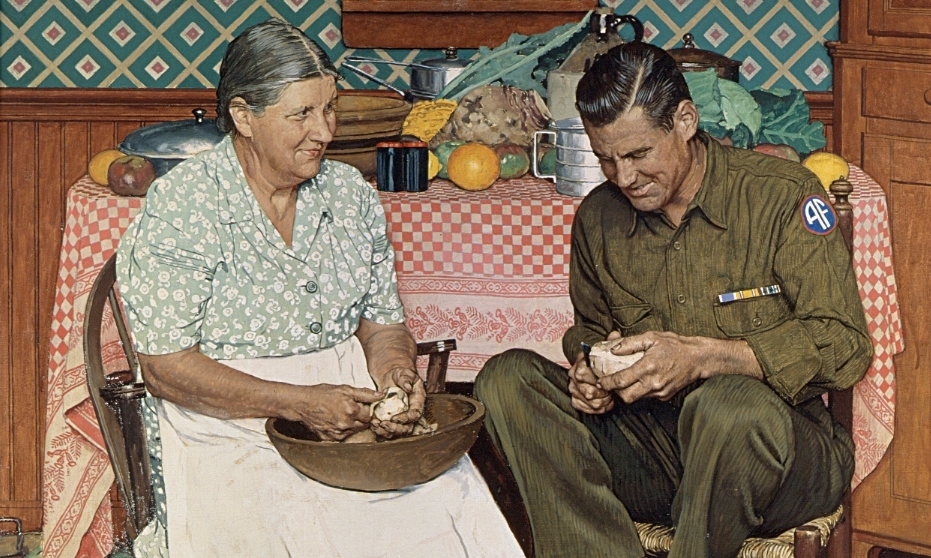 BY:

The American Legion

May 29, 2018
The Norman Rockwell Museum is organizing a traveling exhibition centered around the famous artist's World War II-era paintings and their aftereffects, and a work owned by a Massachusetts American Legion post is part of it.
According to a museum press release, "Enduring Ideals: Rockwell, Roosevelt & the Four Freedoms" tells the story of Rockwell's paintings of President Franklin D. Roosevelt's "Four Freedoms" – Freedom of Speech, Freedom of Worship, Freedom from Fear and Freedom from Want – and how they helped galvanize the then-low public support for U.S. involvement in the war on the basis of defending universal human rights. The exhibition also explores some of Rockwell's postwar work that continued the strain of social/topical relevance.
Roosevelt first introduced the "Four Freedoms" in an address to Congress in early 1941; they were incorporated into the Allies' Atlantic Charter later that year. Other artists had treated the topic, but it was Rockwell's works that truly cemented the Freedoms in the public imagination. Reproductions popped up everywhere – in fact, a set of them adorns walls in the basement of American Legion National Headquarters in Indianapolis.
The exhibition will also include historical documents, videos, artifacts, interactive displays and more, as well as other artworks by Rockwell and his contemporaries. One of those is Rockwell's oil-on-canvas "Thanksgiving: Mother and Son Peeling Potatoes" of 1945, which is listed as being on loan from Eugene M. Connor Post 193 of Winchendon, Mass. It served as the cover for the Nov. 24, 1945 Saturday Evening Post. It has been on view at the museum since 1988. It came to Post 193 via an art-collecting Catholic priest who allowed the post to choose some works in honor of World War II.
The exhibition opens at the New York Historical Society on May 25. It will visit several U.S. museums, and a location in France, through 2018 and 2019, and finish at the Rockwell museum in Massachusetts in 2020. Visit www.nrm.org for more information.