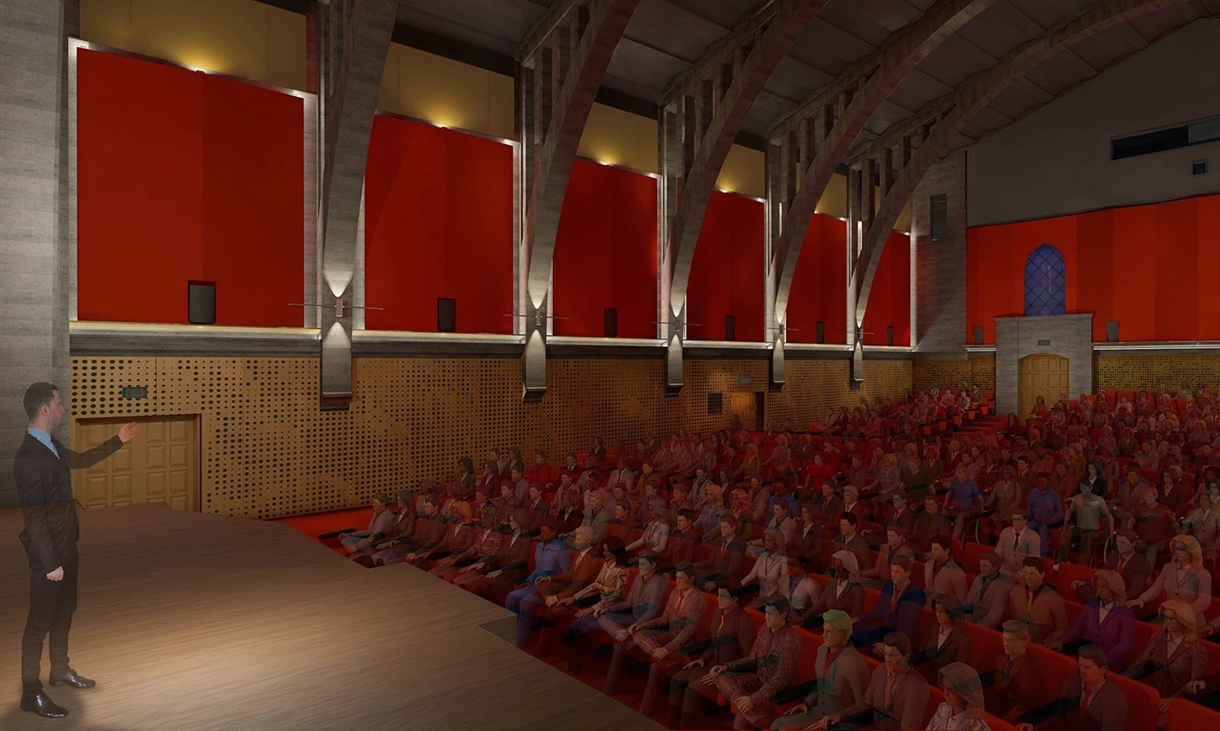 BY:

Michael Hjelmstad

Mar 5, 2018
The physical revitalization occurring at the iconic Hollywood American Legion Post 43 building in Los Angeles is bigger than the state-of-the-art theater that is under construction.
When it opens in late April, the Hollywood Legion Theater is going to be a destination for military-related programming. It will host events, activities and meetings that will support education, entertainment and fundraising, and serve as a testimonial to the leadership of veterans in the community.
Post 43 was chartered in 1919, and construction of the current clubhouse was completed in 1929. The three-story, 30,000 square-foot Egyptian Revival structure was designed by famed Los Angeles architects Joseph and Eugene Weston and was designated an L.A. Historic-Cultural Monument in 1989. The new renovation will keep the integrity of the building's history while opening it up to its full potential.
"I know that this place is going to make a difference in the lives of veterans for generations because of what we are doing," said Post 43 Commander Fernando Rivero, a lieutenant commander in the Navy Reserve. "We are going to be a cultural center where the community can meet its veterans."
When Rivero came into a leadership position at the post it became clear that they needed to grow membership. "I firmly believed that one of the best ways to do that was to invest in our clubhouse,"Rivero said. "We are fortunate to have one of the most beautiful and historically significant posts in The American Legion, and I felt we had a responsibility to ensure that it had a new life and could be here for the next generation of veterans."
Post 43 has been showing motion pictures as far back as 1923, when the executive committee minutes show approval of a projection machine. The 1929 construction of the current post included an established projection room. But the auditorium that can seat nearly 500 was built primarily as an assembly hall for member meetings and social events, and not designed as a cinema.
The first professional equipment came to the motion picture post in 1938, when Harry Warner, of Warner Bros., secured complete sound and projection equipment, including sound screen. Warner was not a veteran, but is described as a man who believed in The American Legion and was vitally interested in Americanism and peace. At the same time Post Commander Willard Stewart, who handled the Fox Studio, acquired two Peerless Arc Lamps. The equipment from the 1930s was never replaced until now.
"In order to make the world class cinema we needed to invest in all new projection, picture and sound that would meet current Hollywood standards," Rivero said.
The renovation of a historic place creates a delicate balance of modernizing a space while keeping the history and tradition intact. The World War I memorial clubhouse will remain the historic landmark that was built to honor those veterans who died in the war by their fellow comrades who started The American Legion.
"Veterans are playing a role in film preservation, just by the fact that we are maintaining a tradition," said Bill Steele, project manager and a Navy Reservist and former projectionist. "I think this is something we can really be proud of as veterans."
Like The American Legion's anthem of legacy and vision, this theater will have the capability for the most modern cinematic experience as well as the ability to show historic film on reel. "We have a tremendous potential to become a really specialty niche theater," Steele said. "Showing historic films, classic Hollywood films, film noir, nitrate prints, World War II documentaries shot in 60 mm, those kind of things are really cool."
One of the greatest challenges in this project is the acoustics. "The biggest issue that the room has is reverberation," Steele said. "It has really pretty lousy acoustics for cinema because it was never designed for cinema."
Max Thayer, a Vietnam-era medic, has been a member of Post 43 for 35 years and has spent a lot of that time in the auditorium. Thayer joined The American Legion after being a part of a theatrical company called Liberty Theater.
In the course of doing plays they opened the building up to the public, which hadn't been done for a long time. The producers of "Tamara," a unique theater performance that moves throughout the building, took notice of the space and started a show that ran for over nine years. It became the longest running play in Los Angeles history.
When "Tamara" ended in the early 1990s, the auditorium was available to host popular concert shows like Foo Fighters, Iggy Pop, Ben Harper, Jeff Buckley and Keanu Reeves' band Dogstar. "All these people, they loved the post they loved the room," Thayer said. He was instrumental in filling the auditorium with live music and fans.
The room Thayer loved hadn't changed much when the theater renovation started. Unfortunately, decades of deferred maintenance meant a heavy investment in new systems. There were many physical challenges to overcome, among them the surprises that a 90-year old building has, particularly when it comes to electrical, plumbing, heating ventilation and air conditioning.
"Anybody who's renovated their house can relate to this, just multiply it by 1,000," Rivero said. "The first obstacle that we had was really just convincing everyone that this was the right thing to do."
Post 43 set out to invest in their building, and their future.
"This building is so special, it's architecturally very significant," Steele said. "You're coming here not to just see a film but to become steeped in a different culture, in a sense, an American veteran culture."
The most important thing is that the revenue generated through facility rentals will support American Legion programs, which will help veterans, children and youth, and the community. The post is going to be able to serve the greater Los Angeles area with a new destination for film and other events, which bring the community closer to the veteran experience.
"We can help our active duty military who need a place to go when they visit Hollywood, and really be relevant to the new generation of veterans," Rivero said.
The intention now is that this will be a place where veterans from around the country will come to visit and participate in events and experience The American Legion history through this building and see what veterans are doing today as leaders in the community.
"One thing The American Legion can offer veterans at the local level that other organizations don't have is a place. A place to call home, a place to find community with other veterans. We're going to be the best place for veterans that Hollywood could offer," Rivero said.
The renovation is bitter sweet for Thayer who has many great memories, but looks forward to a bright future.
"The culture of this post is going to outlive us all," Thayer said. "Some of the heart and the soul of this building that people are still going to be able to look at something built in 1929, and appreciate it one hundred years from now. It's a turning one page and an opening up of another chapter, and yet the song remains the same. "
Legionnaires and veteran supporters can secure their place in history by sponsoring a new theater seat with their name engraved on a bronze plaque, or dedicate it in memory of a loved one by going to www.hollywoodpost43.org/donate.