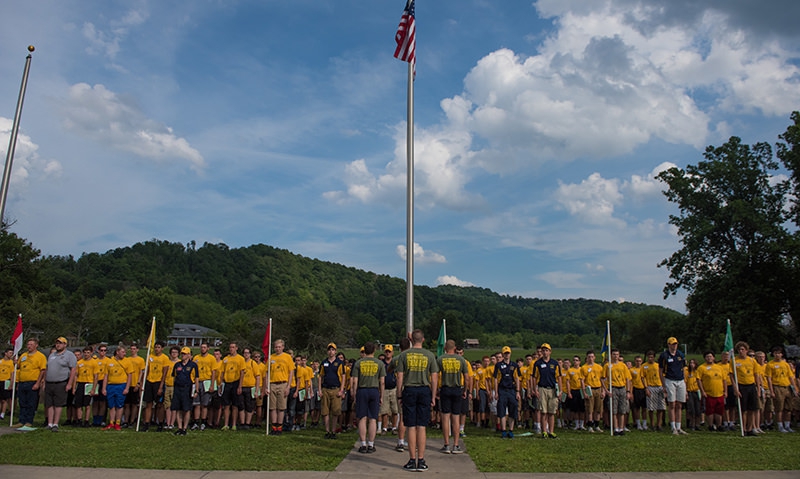 BY:

The American Legion

Aug 16, 2017
This past June, 400 young men from one state stayed in 13 cabins for seven days to receive leadership training and gain insight into the political process. Those rising high school seniors are now a part of the more than 30,000 graduates of the Department of West Virginia American Legion's Mountaineer Boys State program.
Founded in 1936, Mountaineer Boys State is the second-oldest Boys State program in the nation and has been located for all 80 years on historic West Virginia University Jackson's Mill State 4-H Campground – the boyhood home of Gen. Stonewall Jackson. The idea to adopt the program in West Virginia was initiated in 1935 by then Department Commander C.L. Smith from St. Albans, W. Va., after forming a committee and visiting the first Boys State program in Illinois. Soon afterward, the incoming Department Commander W.G. Stathers of Clarksburg, W. Va., had the idea to host it at West Virginia University since it was centrally located and resembled the grounds of the Department of Illinois' Boys State program.
Mountaineer Boys State Director Jim Davis credits the longevity of the program to the alumni that come back to serve on staff, the dedication shown by West Virginia Legion family members, notable speakers, and changes made to adapt to technology advancement.
One way the program has evolved with technology is through voting. The Boys State delegates cast all of their ballots on voting machines that citizens use during local, state and national elections. The ballots casted are for positions that the young men run for in pursuit of their career path at the program, whether it's in politics, journalism, banking, law enforcement, National Guard and more.
Speakers have included World War II veteran and Medal of Honor recipient Woody Williams, state senators and governors, professors, researchers and program alumni. A few alumni include former Los Angeles Lakers player Jerry West and former West Virginia Governor Bob Wise.
Mountaineer Boys State has remained a premiere youth program of the department "because of the quality of leadership that the boys receive during the week and the many great speakers," said Davis, a member of Post 46 in Benwood, has served on staff for 15 years. "Also, when the boys return to school they are telling everyone of their special week at Boys State."
A week that often shapes the future.
"We hear thanks and more thanks about the way we changed their plans for the future," Davis said.
Now, the countdown is on for the 2018 Mountaineer Boys State program – June 10-16.