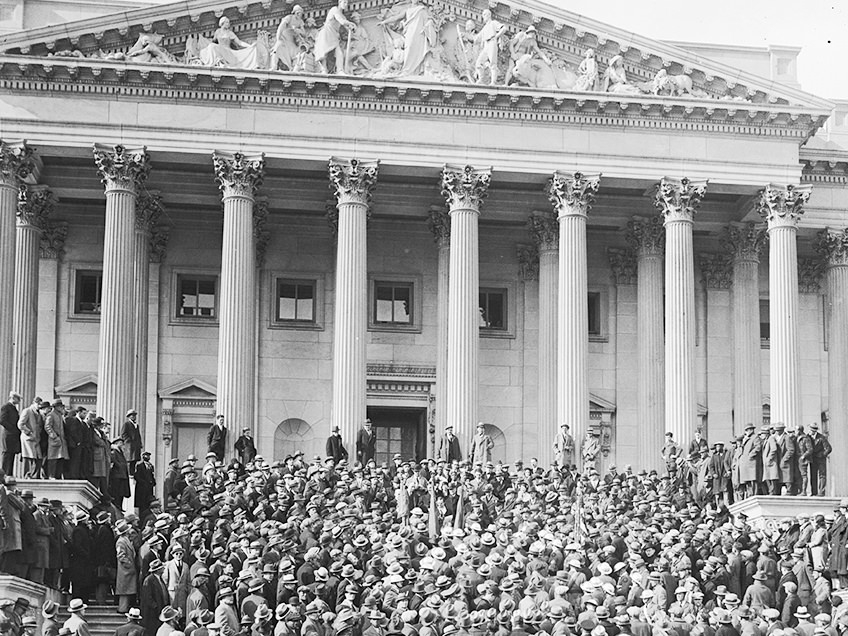 American Legion bill passes, survives veto, to end adjusted compensation battle.
Congress overrides President Franklin D. Roosevelt's veto of the Adjusted Compensation Payment Act – a redrafted version of The American Legion's bill that had been introduced by U.S. Rep. Fred M. Vinson early in the previous year.
The House had passed the measure 356-59, and the Senate approved it 74-16, enough support to override the expected veto. Roosevelt's Jan. 24 veto is quickly reversed.
Immediately following the law's enactment, American Legion National Commander Ray Murphy sends by airmail the application forms necessary for veterans to file for the payments. He also broadcasts to a national radio audience the procedure for filing the forms. By April 25, 1936, approximately 2.9 million applications for the bonds are filed by veterans.
The American Legion's position on immediate payment and legislation to make it happen were formalized at the 1934 National Convention in Miami, led by Harry W. Colmery of Kansas, who would go on to draft the Servicemen's Readjustment Act of 1944, the GI Bill. Prior to that, The American Legion had been divided on the issue.