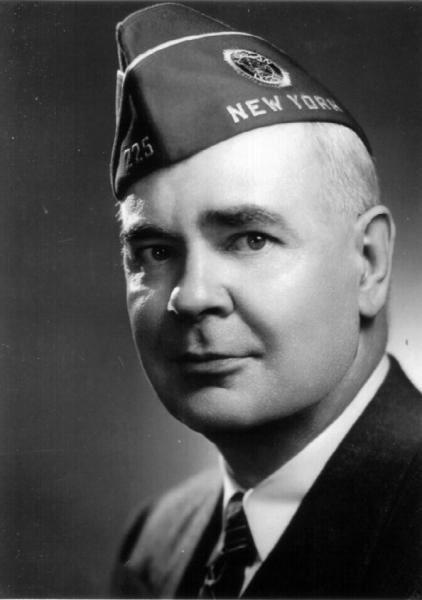 Edward N. Scheiberling, was elected National Commander of The American Legion, at the National Convention held in Chicago, Illinois, in 1944.
. Mr. Scheiberling, was present at the first Legion Caucus, March 15-17, 1919, Paris, France. Also member of delegation from New York State to the St. Louis Caucus, May 8-10, 1919, St. Louis, Missouri.
He was born in Albany, NY, December 2, 1888, his father was Martin A. Scheiberling, he attended public schools in Albany and graduated high school in 1905. Attended Union University, obtaining an LLB, in 1912.
Edward served in the US Army, attending the Plattsburh Training Camp in 1916. Commissioned a second lieutenant of Infantry he was called to service in May 1917 at Madison Barracks. Assigned to the 312th Infantry, 78th Division, he was promoted to second lieutenant and sailed for France in May 1918. Saw action at Limey, St. Mihiel, Meuse-Argonne; promoted to captain in October 1918, and honorably discharged June 2, 1919.
Edward was the organizer, charter member, First Post Commander of Capital City Post, No. 225, Albany, New York. Commander of the Third District and member of the Department Executive Committee, Member Department Legislative Committee, eleven years, Chairman for six years. As chairman he sponsored many important bills for Veteran's Legislation in New York. To include, Retention of Veterans in Civil Service Positions. Disabled Veterans Preference in Civil Service. New York State Bonus for Relatives of Deceased Veterans. Scholarships for children of Deceased Veterans. Disqualifying from Civil Service those advocating overthrow of government. Loyalty oath for teachers. War Chest Funds for Legion Posts. Private Parker F. Dunn Memorial Bridge across the Hudson at Albany. New York State War Memorial Authority. Armistice Day, a State Holiday. He was, a Member, first Board of Directors, American Legion Mountain Camp, 1921-1922, which purchased Tupper Lake property in Adirondack Mountains and established the camp. Organized successful campaign in Albany County for New York State Bonus, 1921. Chairman, State Finance Committee, 1923, conducting first Poppy Sale for the Mountain Camp and raising over $86,000. Chairman, American Legion Mountain Camp Endowment Fund Committee, 1936, raised $30,000.
Elected Commander of the Department of New York 1935-1936. Chairman, National Resolutions Assignment Committee, 1937, member 1938. Chairman. Vice President and Director, New York City, National Convention Corp. 1937 . He was a senior member of Scheiberling & Schneider, Albany. Served on the Justice City Court, 1924-29. He was a past president of the Albany County Bar Association. Edward was married on November 11, 1939. Hr died December 2, 1988. 100 yrs.