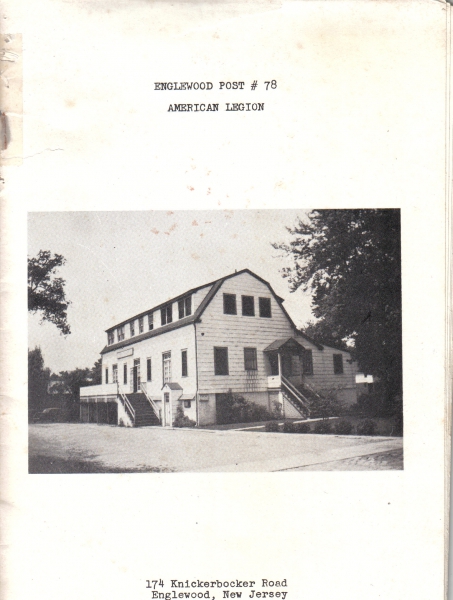 The Post met thru most of these years in the Veteran's Building on West Street.  This was convenient for meetings, but did not lend itself to any other activies.  When World War II came along and with returning veterans eligible for membership, the need for a larger clubhouse for the post became evident.  Under the able leadership of Commander William Huggett and Chairman Max Rogoff, a small group of old and new members on the Building Committee raised suffient funds during a few hot summer months to acquire the building on Knickerbocker Road.
The Post took possession and an impressive ceremony with the Mayor and many notables attending the clubhouse was officially dedicated on October 19, 1945 to the service of the veterans and community of Englewood.
The original American Legion Post 78 was a large 3 story wooden house type structure located on Knickerbocker Road in Englewood, NJ.  There was a large extension out of the back of the building which measured approximately 30' wide by 100' long.  The ground level section of the extension contained a 4 lane bowling alley which required pins to be "hand set".  The area above the bowling alley was the main hall of the post.  The famous football coach, Vince Lombardi, started his coaching career at St. Cecilia High School in Englewood which was located only several blocks away from Post 78.  From around 1939 to 1947 Lombardi would bowl at the post prior to coaching for Fordham University, West Point Military Academy, the New York Giants and eventually the Green Bay Packers.  There were two tennis courts located on the post's property where movie and television star, Paul Sorvino would play on occasion.