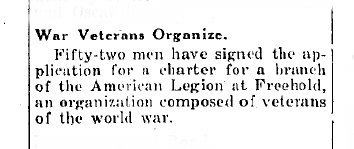 On August 4, 1919 fifty Freehold area veterans who "were in the military or naval service of the United States during the period between April 6, 1917 and November 11, 1918" signed an "Application for Post of American Legion." Many of the family names of these signers still reside in the area to this day, and their decendents are current members of Post 54.
The original signers of the charter application were:
Hal M. Lowry, John C. Clayton,Adrian E. Moreau, George H. Smock, Charles H. Evold, Harry D. Hance, Everett A. Woolfenden, John Newmeyer, Maltby W. Conover, Joe R. DuBois, Joseph H. Conover, Lester B. Kip, David M. Carswell, Lewis W. Tovey, Charles R. Conover, Walter C. Baird, Martin Malia, Harvey S. Brown, Thomas Gardner, James McGowan, Fred Shields, Vincent J. Dugan, Howard Stokes, William Johns, Irwin Wyckoff, Raymond T. Lykes, Joseph P. Torre, Michael Cunningham, David Fitzgerald, Lew Tannenbaum, Edward H. Cook, Benjaim Zlotkin, John Carswell  Jr., Oliver R. Heiser, N.H. Torello, Lawrence Sherlock, Willard C. Little, Leonard J. Rue, Louis S. Dey, James A. Stokes, Maurice C. Dobbins, Raymond Conners, Renson L. Meyers, Edward H. Yetman, Dorrie Smythe, Arthur Smythe, Raymond Jones, William M. Hepburn, George M.F. Randolph, Stacy E. Matthews.