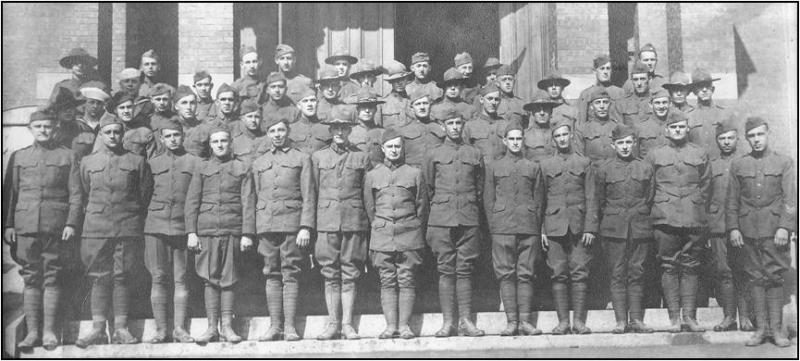 Armistice Day celebrations were organized by Newport's Welcome Home Committee. Captain Olin H. Chase [Spanish War veteran] was Chief Marshal of the parade, with Tyler L. Barker [of the old militia] and Dr. Peter Ladieu from Norwich University as assistant marshals. Nelson's Cadet Band led he parade, followed by one hundred and fourteen servicemen, followed in turn by two automobiles with the nearest relatives of men who lost their lives in the World War. Members of other patriotic organizations followed, as well as local manufacturing companies. At the Common World War I service men formed two lines to review the rest of the parade. Frank O. Chellis gave a speech in front of the Newport House, after which a supper was served in the Odd Fellows Hall for all men who had ever served in the Army or Navy. The one hundred and ninety men in attendance included veterans of the Civil War, Spanish War, World War, State Guard and border service. The first activity sponsored by the Post was the American Legion concert and dance at the Town Hall that evening. Legion members attended in military uniform. Notes from Henry Mahoney provide this schedule of events:
10:00 am: 13 salutes from cannon
11:00 am: Whistles and bells for fifteen minutes
3:00 pm: Parade
5:30pm: Supper, Odd Fellows Hall in the Richards Block
Evening: Band concert and dance at Town Hall sponsored by the American Legion
This photograph shows Newport's World War I veterans on November 11, 1919.