Bronstein Park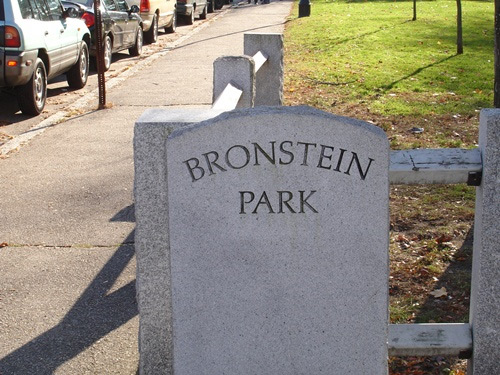 Location: Hanover & Beech Streets
Amenities: Bronstein Park is rich with history, like many other parks in Manchester.  The park has historical statues and open grassy area.
Bronstein Park is located in downtown Manchester. The small, 2.84-acre park is located within walking distance of Central High School on Hanover and Beech Streets. The scattering of trees across the park provides both shade in the hot summers and beauty in the colorful spring and autumn seasons. The walkways have benches lining the sides so visitors may sit and enjoy their surroundings.
Ben Richard Bronstein was born in Manchester in 1915. On February 28, 1942, German submarines attacked the ship that Bronstein was on, the U.S.S. Jacob Jones. The destroyer was hit with at least two torpedoes. It was the first ship to be sunk by the Axis Powers' forces. One hundred eighty-nine members of the two hundred-member crew died on board that night, including Dr. Bronstein. He was the first man from New Hampshire to die in World War II.
He is honored with two ships that bear his name, along with the park in downtown Manchester. He attended Manchester's Central High School and then went on to the University of New Hampshire and Tufts Medical School. Bronstein was one of five children, and one of his brothers was the former principle of Manchester Memorial High School. His other brothers were Massachusetts's businessmen.
Although the park is named for Dr. Bronstein, there is another statue that stands larger in the park grounds. The Spanish-American monument is larger.
History of Bronstein Park researched and written by: Sarah M. from Manchester Memorial High School Class of 2011.
Harriman Park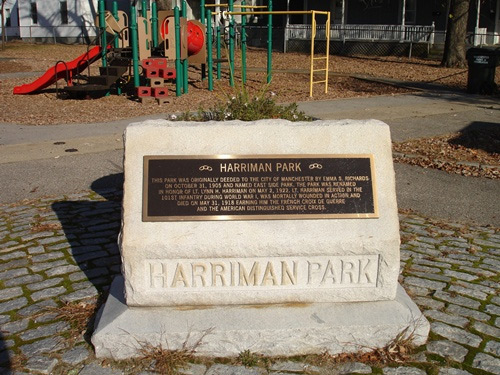 Harriman Park was originally named East Side Park, and was given to the city by Emma S. Richard on October 31, 1905. The Park was renamed on May 2, 1922 in honor of Lt. Lynn H. Harriman. Lt. Harriman served in the 101st Infantry in World War 1 and died on May 1, 1918 after being mortally wounded in combat. Lt. Harriman was awarded the French Croix de Guerre and the American Distinguished Service Cross for his bravery. Harriman Park is located on the corner of Lake Ave and Hall St. and the corner of Hall St. and Central St. The park is comprised of 0.41 acres, and includes a playground and a basketball court.
History of Harriman Park researched and written by: Tim S. from Manchester Memorial High School Class of 2011.
Lafayette Park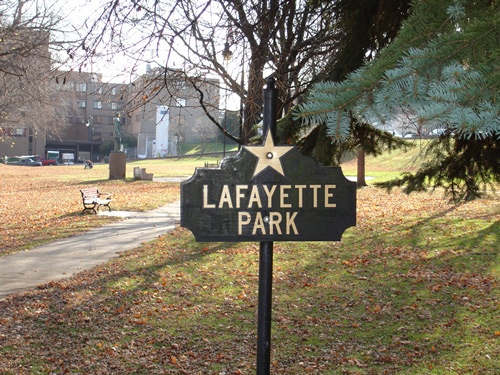 Lafayette Park was dedicated by the Franco-American Memorial Commission in 1957, the 200th anniversary of the birth of its namesake: Gilbert du Motier, the Marquis de Lafayette (1757-1834). Lafayette was a wealthy French nobleman allured by the ideals of the American Revolution. In 1777, he was commissioned as Major General in the Continental Army. Lafayette served alongside George Washington and played a decisive role in numerous engagements, including Washington's final victory at Yorktown. During his famous 1824 tour of the nation, commemorating the 50th anniversary of the revolution, Lafayette made a memorable stop in Concord, where an elm tree was planted in his honor. As inscribed on a commemorative plaque, Lafayette Park stands in memory of the General as well as all Franco-Americans who "in times of peace and war have contributed to the glory of their country and to the prosperity of the city of Manchester."
Encompassing just over two acres on Notre Dame Avenue in Manchester's West Side neighborhood, the park is also home to several works of sculpture. Most prominent is an impressive statue of Ferdinand Gagnon, a 1949 piece by well-known sculptor Joseph A. Coletti. Born in Saint-Hyacinthe, Quebec in 1849, Gagnon is widely considered "the father of Franco-American journalism." He moved to the United States as a young man, briefly residing in Manchester before settling in Worcester, Massachusetts. There he founded and published a number of noteworthy French journals, including La Voix du Peuple ("The People's Voice") and Le Travailleur ("The Worker"). Gagnon died in 1886 at age 36. He left behind a legacy of diligent advocacy for the rights of French-Canadian immigrants facing discrimination and exploitation in 19th century New England. Gagnon's towering presence is not the park's only landmark. Perched on their haunches, a pair of bronze lions guards the corner gate, symbolizing the strength and longevity of Manchester's Franco-American community.
Pulaski Park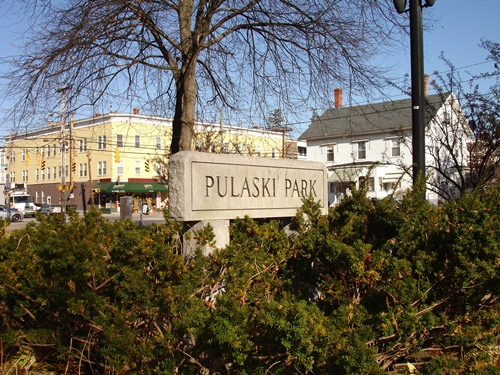 Location: Pine and Bridge Streets
Amenities: Basketball court
For directions click here.
Pulaski Park, located on Bridge Street, is an excellent place to sit and relax with your family while you take a break from the city. The lush grass fields are inviting, and are very well maintained. The aesthetics of the park make one want to sit and have a picnic, toss a Frisbee around, or relax under the shade of one of the many trees. The park also has a basketball court, which is used both by St. Joe's and neighborhood kids looking for a retreat. While St. Joe's building will no longer be used after the end of this school year, the park will continue to be used by people both young and old as a relaxing retreat.
This park was named after Casimir Pulaski, a Polish immigrant who became a general during the Revolutionary War who was one of George Washington's right-hand men and the head of the cavalry. Washington reportedly once said, "General Pulaski was an invaluable resource to me during the War. I doubt that we could have won it without him." Not only did Pulaski create a charge during the Battle of Brandywine that allowed the Americans to retreat, this charge managed to save George Washington's life. This shows his impact on the American rebel army, and without his help we could still be British subjects. He eventually died in battle, but was honored throughout American history for his bravery, and became one of only seven people to receive honorary American citizenship.
The park itself was created by the Works Progress Administration during Franklin Delano Roosevelt's New Deal, in an attempt to put the unemployed to work while providing valuable community service. This noble gesture was able to give temporary employment to the people that were suffering the most during the Great Depression, and it also gave beauty to an area that truly needed it. A statue was placed in the new park in order to honor this great war hero, where he is riding his steed with his sword in the air, signaling a charge. This park has done its job, both in honoring the general and giving a new, ambient park to the city of Manchester, and I hope that the park will continue to be maintained and used well by the people of this area.
History of Pulaski Park researched and written by: Alex G. from Manchester Memorial High School Class of 2011.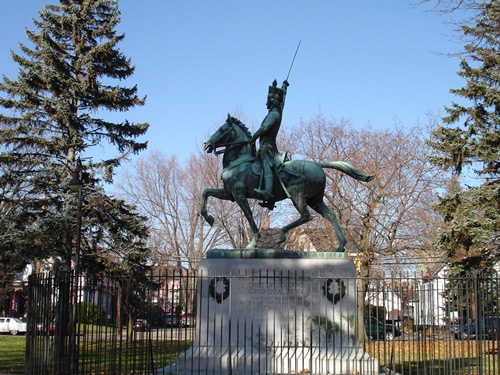 Sheehan-Basquil Park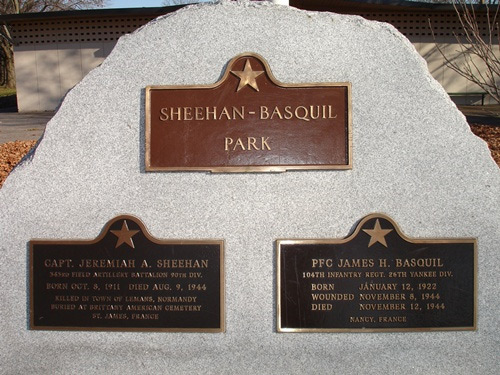 Amenities: Baseball field, playground, swimming pool and skate park.
For directions, click here.
Location:
Sheehan-Basquil Park is located on the corner of Maple Street and Auburn Street.
Facilities and amenities:
Sheehan-Basquil Park has a baseball field which serves as a recreational past-time. A playground is also located in the park where children can spend their time and play as they visit Sheehan-Basquil Park. A swimming pool is also a part of the recreational facilities at this park, so people of all ages can refresh themselves with a nice swim in the pool. Skating is a great recreation, which is why Sheehan-Basquil Park is accommodated with a skate-park where anybody can go and enjoy their visit with a nice fun skate.
Behind-the-name:
Capt. Jeremiah A. Sheehan was one of the two people that this park is named after. He was born on October 8th, 1911 and died August 9th, 1944 at the age of 32. He was killed in Normandy and buried in Brittany American Cemetery St. James, France.
PFC James H. Basquil, born on January 12th, 1922 and died on November 12th, 1944 after being wounded four days prior. He was in the 104th Infantry Rect. 26th Yankee division when he died from his injuries. 
History of Sheehan-Basquil Park researched and written by: Catherine P. from Manchester Memorial High School Class of 2011.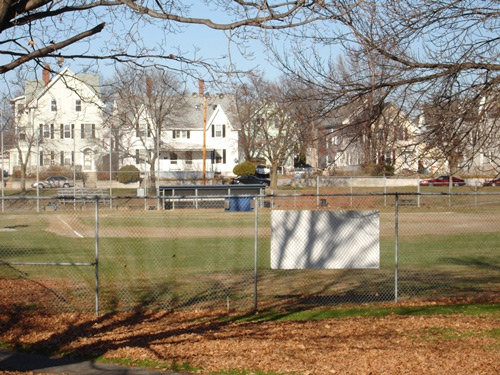 Simpson Park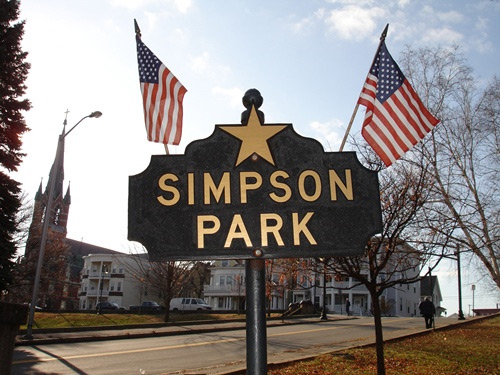 Location:  Off of Coolidge Avenue
Amenities: Playground and picnic area.
For directions, click here.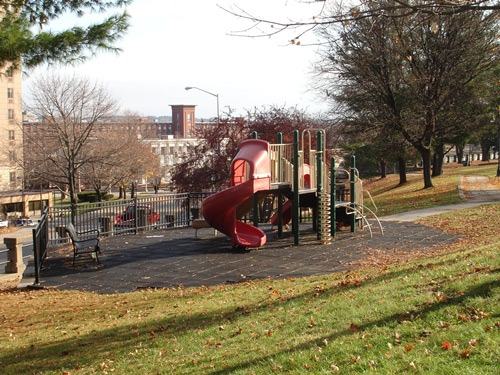 Veteran's Park

Location:
Veteran's Memorial Park is located on Elm Street between Central and Merrimack streets.
Directions:
Route 293 North to Granite Street Bridge Exit (exit #5) right at the end of the ramp onto Granite Street. Cross Granite Street Bridge, then left at 3rd traffic light (Elm Street, at SNHU Arena). Park is one block north.
For directions, click here.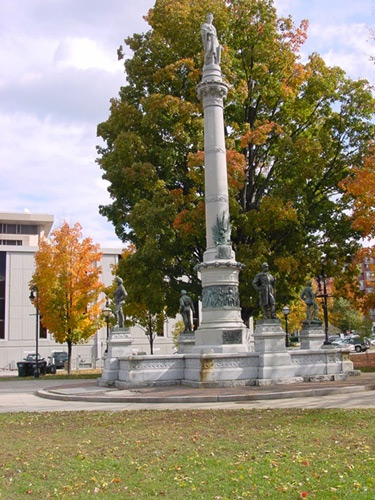 Description:
Veteran's Park is the destination for outdoor concerts and festivals. The JB Batalis public restrooms are open during various downtown events. The Park also sports a large covered stage from spring into early fall.
A new World War II monument was erected in summer 2009.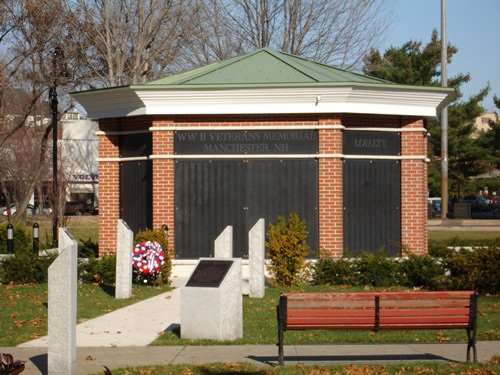 Requests for Use:
Submit a letter requesting the use of the Park with dates, times and an in-depth description of the event.
The Department requires a certificate of insurance in the amount of one million dollars general liability, naming the City of Manchester as additional insured.  This certificate should be in place ten days prior to the event.
PARK USE ONLY  - An attendant must be assigned to the facility for the event.  The attendant monitors the park activities, provides information and assists the event manager with access to amenities.  Additional services provided include access to electricity behind main stage and light trash removal during and after the event.  Electrical requirements above and beyond those provided are the responsibility of the applicant.  Removal of trash above and beyond the usual and customary may be invoiced to the applicant.  The cost of the attendant will be at a rate of $50.00 per hour for a minimum of three hours.   The attendant stays for the entire event plus one hour after.   The cost of additional trash removal will be determined by the Manchester Highway Department and invoiced accordingly.
STAGE USE - Organizations requiring use of the STAGE and associated electricity will be assessed a usage fee of $250.00. (Available only from May 1 to mid September).
Organizations requiring use of the STAGE and PARK will be assessed both of the above fees.
Each organization will be provided use for ONE DATE only in any 6 month period.  No multiple dates or concurrent days will be accepted.  Park usage should not exceed 8 hours in a given day.
Any advertisement or placement of banners in the park must receive prior approval from the Parks, Recreation and Cemetery Department.  Placement of banners that requires our assistance may involve additional fees.
No vehicles are allowed in the Park without Department approval.  No vendors or concession carts are allowed in or on the perimeter of the park without approval of the Department.
The Department will approve all entertainment to be performed by organizations using the Park.  The Department reserves the right to restrict noise levels and time frames related to such entertainment.  The Department may require organizers to supply tapes or compact discs of related music for review, and consideration.
A license from the City Clerks Office is required. This will include a sign off sheet with Police, Fire, Health and Parks signing off.
No cooking is allowed in the Park except for a licensed caterer approved by the Health Department.
No alcoholic beverages are allowed in the Park.
The Park may not be closed to the Public.
History:
Back when cars were not so common, you saw horses everywhere. A person who lived in the mid-late 1800's could see horses grazing where they pleased on a grassy field in the middle of the business district (like a gas station). Veteran's Park is the first downtown park ever created in the city of Manchester. Over 30,000 people came by train to see the opening of this park on September 11th, 1879.
Originally, the park was meant to serve as a memorial for the brave souls who fought in the Civil War in order to preserve the Union. Currently, it serves as a memorial for the veterans of World War I, the Korea War, the Vietnam War, and World War II. Recently, a large octagonal memorial to the World War II veterans from Manchester was built. There used to be a similar memorial for the World War II veterans, however, it was temporary and dismantled in 1958. The new memorial isn't just an octagon, like the original memorial was. This new memorial includes markers and benches with the names of those from Manchester who have served their nation. Also, there are now trees that are specifically dedicated to Manchester citizens who have fought and died in Iraq.
Presently, Veteran's Park is not only a memorial. It is also a place where occasions such as fairs, lectures, and film festivals are held. These events include People Fest, the Downtown Film Fest, the YWCA's Take Back the Night, the annual Adopt-A-Block fair, and many more.
Victory Park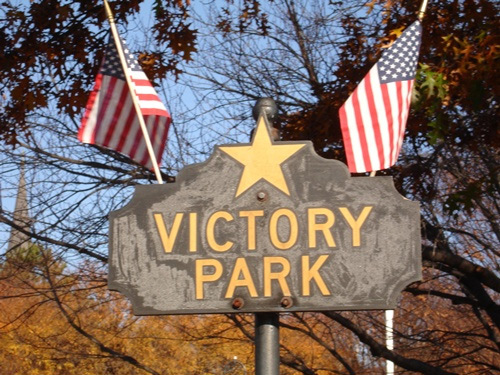 Located:
Between Concord and Amherst, Pine and Chestnut streets.
For directions, click here.
Description:
Victory Park is the home to the Farmer's Market which is open from June – October on Thursday afternoons.  The City of Manchester library hosts many family events at Victory Park throughout the summer months.
History
Victory Park is dedicated to all the Manchester veterans and current military personnel who have answered the country's call to arms. There is one notable soldier that the park is dedicated to and that is Private First Class Rene A Gagnon. Rene A Gagnon was fighting with the United States Marine Corps. on Iwo Jima. He was one of 6 men who took part in the most memorable flag raising in United States History.
He was not originally ordered to help raise the flag with the original 4 men but when other orders brought him to the top of Mount Surabachi on February 23rd, 1945 he was asked to help because the pipe that the flag was connected to was very heavy and it needed 6 men to raise. He was immediately brought back to the States after the battle for Iwo Jima along with PFC Ira Hayes and Pharmacists Mate John Bradley.
The three men went on a money raising tour for the military. Gagnon returned to the fighting in China after the tour. He left the army at the end of the war and acted in two movies about the flag raising. Gagnon lived out the rest of his life in his hometown of Manchester. He died October 12, 1979 from a heart attack at the age of 54.
History of Victory Park researched and written by: Jordan D. from Manchester Memorial High School Class of 2011.
Weston Tower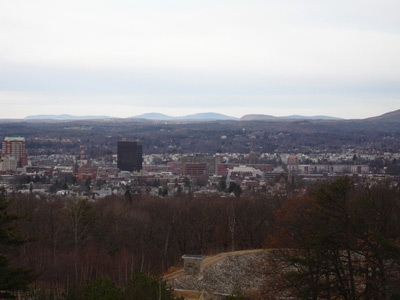 Location: Reservoir Avenue
For directions, click here.
The Weston Observatory is a perfect place to spend the day.  Located on Oak Hill Drive, the observatory is walking distance from Derryfield Park.  Its grounds boast hiking trails with breathtaking views of the city of Manchester.  In addition to its aesthetic appeal, the observatory is also rich in Manchester history.
The cornerstone of the Weston Observatory was laid on September 7th, 1896 during Manchester's 50th anniversary celebration. The observatory was built in honor of James Adams Weston, a well known Manchester citizen.  James Adams Weston began his career as the assistant civil engineer of the Concord Railroad at the age of nineteen.  Due to his aptitude for math, Weston was promoted to Chief Engineer within three years.  After leaving the railroad, Weston worked as a banker and served on the boards of many banks and other corporations.  However, Weston is best remembered for his successful career as a politician.  A democrat, Weston managed to win the mayoralty of Manchester four times during the late 1860's and early 1870's.  This was a very impressive feat, as the majority of the population of the city belonged to either the Republican or the Whig party.  During his time as mayor, James Weston put programs whose purpose was to beautify Manchester's parks and cemeteries into place.  He was also responsible for the construction of the city's waterworks system.  Weston went on to serve two terms as the governor of New Hampshire.  He was the first Manchester native to serve as both mayor and governor.
The Weston Observatory is made of granite and stands 66 feet tall.  The top of the observatory stands an astounding 360 feet above Elm Street.  During World War II, it was used as a spotting post by air raid wardens.  Now, it can be used to view some of New Hampshire's most well known landmarks, including Mount Monadnock, Mount Kearsage, Mount Chocorua, Rock Rimmon, Lake Massabesic, the Uncanoonuc Mountains, Joe English Hill, and Tower Hill.  On a clear day, it is even possible to see Mount Washington from the observatory's platform. 
History of Weston Tower researched and written by Caroline H. from Manchester Memorial High School Class of 2011.
View more history for Post 2 in Manchester, NH , New Hampshire