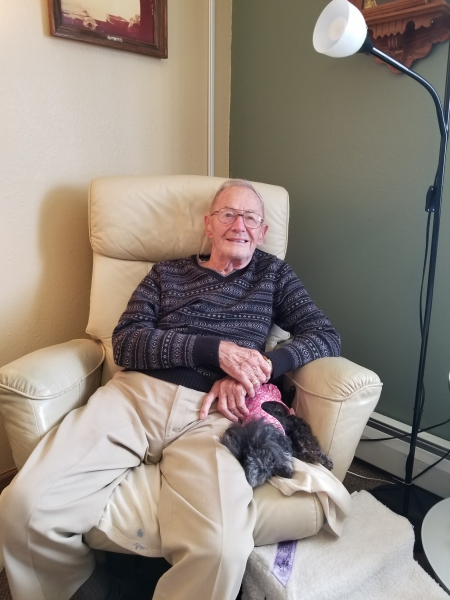 STORY OF WWII VETERAN WAYNE HOFFMAN
      Wayne Hoffman was born on November 10, 1919 in Proctor, MN to Mr. and Mrs. Carl and Emma Hoffman. Carl Hoffman passed away in 1963 and Emma Hoffman in 1960. He had one sibling a sister named Audrey who passed away in 1998. He grew up in Proctor, MN and joined the Navy Reserves his Senior year of High School in 1937. When he joined the depression was going on and the Navy Reserves was here in Duluth, MN so him and some friends decided to join. The Navy Reserves was based out of Park Point in Duluth, MN and Wayne went to boot camp training there and on the Great Lakes.
      He later got a job working at DM&IR Railroad just like his Dad who worked on the railroad. Sometime in 1941 he got out of the Navy Reserves and then later moved to Texas in 1941 and got a job working for the Southern Pacific. While he was working in Texas with the Southern Pacific Railroad the attack on Pearl Harbor took place. He kept working with the railroad helping move trains with military equipment and troops on them.
                Wayne joined the Navy again in 1943 and went to Gunner's Mate school in Detroit, Michigan and Great Lakes, Illinois. He then flew to Hawaii and after more training he boarded an attack transport ship called USSWindsor (APA-55). Wayne left Pearl Harbor on January 22, 1944 on board the USS Windsor bound for the Marshall Islands as part of Task Force 52. Wayne talked about the trip over to the Marshall Islands. He said he and his friends we're put in the stern of the ship towards the bottom where the screws were, and the oil and gas smells were strong. He worked in the galley and said he had to peel a few potatoes. Also pointed out he used his hat as a punk bucket because he got sea sick many times. Many sailors and soldiers were getting sick because they never been to sea.
              Once he arrived too the Marshall Islands Wayne reported to LST-244 (Tank Landing Ship) in the Marshall Islands which was part of the Asiatic-Pacific Theater and took part in the Marshal Islands Operation which took occupation of Kwajalein and Majuro from February 2-8 of 1944. Then from July 21, 1944 to August 5, 1944 was part of the Marianas Operation which was the capture and occupation of Guam. The LST-244 also took part in the Okinawa Gunto Operation which was the assault and occupation of Okinawa from April 2-10, 1945. When the war ended in September 1945 Wayne was already back in the states in San Diego, California. The trip home Wayne said he didn't get sick, but they had a lot of mechanical issues with the ship and had to stop a few times to get things fixed. They went straight to San Diego not even stopping in Hawaii. Wayne got out of the Navy shortly after the War ended in 1945. He took a train home back to Proctor, MN. When Wayne returned home he continued working for DM&IR Railroad. He worked as a conductor until he retired in 1980
      Wayne was married to Doris Bergstrom on June 7, 1941. Wayne moved to Texas soon after for work with the railroad. When Wayne joined the Navy again then went off fighting the War Doris left Proctor, MN with their infant daughter and moved to Seattle, Washington where she worked for Boeing Corporation and built B-29 Stratofortress. Found out by Wayne's son Mike that Doris's parents worked on the B-29's too during the War. When the War was over Doris return to Proctor, MN to be with her husband. Wayne and Doris had three kids, two daughters and a son named Sandy, Michael and Gretchen. Wayne's wife Doris passed away on November 29, 2000. They were married for 59 years.
      When Wayne retired in 1980 he got pretty active doing all kinds of things. He took up swimming at the YMCA and later started Scuba Diving. While in high school he played the trombone in the band so when he retired he started playing with the Proctor Community Band and later the Northwind Drum & Bungle Corp. Wayne was even a good singer because he was in a Choir too. Shortly after retiring he bought a motorcycle and enjoyed driving around on the nice days here in the Northland. If anyone's been at the Depot downtown and seen the railroad cars there you will see one, they call the China Car. Wayne put over 1,000 volunteer hours helping get that to what it looks like today. Wayne has been a member of the American Legion for about 15 to 16 years now. He also volunteers with the Duluth Honor Guard and been doing that about 15 years. He lives in Hermantown, Minnesota at the Edgewood Vista.