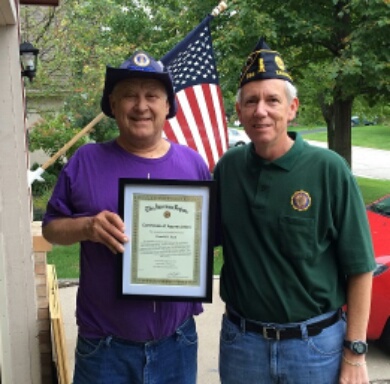 On 9/20/16, Eagan American Legion Post 594 began recognizing residents who respectfully display the U.S Flag. The first recipient of this Citation of Appreciation was Bob Geis of Ivy Lane in Eagan. Bob raises and lowers his flag on a daily basis, regardless of the weather. He was nominated for this recognition by Tom Mullon of Eagan. On 9/24/16, Ronald Paul of Livingston Drive in Eagan was presented with two Certificates of Appreciation. One was for his respectful display of the U.S Flag and the second was for taking several hours each Patriotic Holiday fashioning a display of 400 miniature American Flags and signs he's made in support of our active military. His display stands out and reflects Americanism. Ron was nominated for this recognition by Dan Seanoa of Eagan.
Ronald Paul's lawn display.
Ronald Paul receives Flag Display Citation of Appreciation.