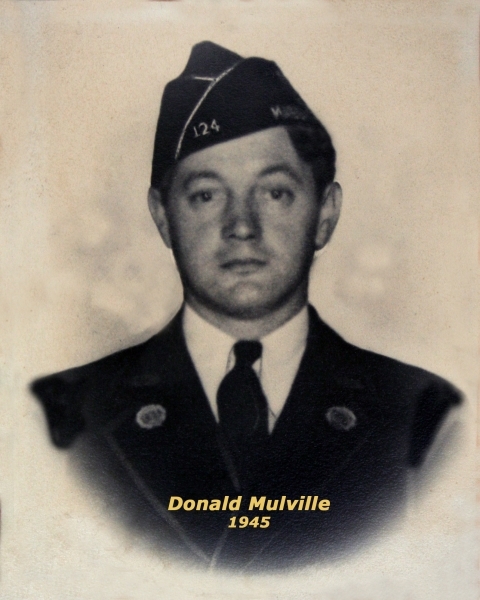 Donald Mulville, Named Westfield Legion Head, Dies
New Post Commander Was Installed in Office Only Four Hours Before Death at His Home.
Westfield, November 5, 1944 – Tragedy stalked the annual installation of officers of Westfield Post, American Legion, as Donald Mulville died suddenly at his home, 12 St. Dennis Street, at about 2:30 this morning, four after he had been inducted as new head of the Post.
The exercises, held at Odd Fellows' hall with Mayor Arthur B. Long and members of the city government as guests, was concluded in routine fashion with no indication that Commander Mulville was ill.  According to Mayor Long, the new commander did complain at one time of being exceedingly warm but no thought was given to this remark at the time.
        Navy Man in World War I
Commander Mulville was born at Canann, CT., May 3, 1898, and had been a resident of this city for 22 years.  For 17 years he had been employed at the Foster Machine Company.  He was a veteran of War War I, enlisting in the Navy, December 11, 1917 and at the end of the war, he reenlisted and was discharged August 27, 1921.  Ha had been very active in Legion affairs and Masonic circles.  He was a member of Mount Moriah Lodge of Masons, a past priest of Evening Star chapter, Royal Arch Masons; a member of the Council Royal and Select Masters and past patron of Golden chapter, Order of Eastern Star.  He was a member of First Congregational Church. 
He leaves a widow, Hazel (Hatch); a son, Donald B., and a daughter, Beverly J., of this city; three sister, Mrs. Ralph B. Atkins, Mrs. Lawrence Atkins of Charlemont and Miss Eunice E. Sardam of Springfield, and a cousin, Mrs. George H. Beneway of this city.
A military funeral in charge of the Legion Post will be held Tuesday afternoon at 2 at the Firtion-Hollister funeral home with Rev Edward U. Cowles, past of the First Congregational Church, officiating.  Burial will be in Pine Hill Cemetery.
        Lloyd Kendall to Fill Post
First Vice-Commander Lloyd Kendall, also installed at the meeting last night, will automatically become the new commander of the Post.  Second vice-commander is John Cavanaugh.  Other officers follow: Historian, Gregson Robinson; finance officer, Edwin Shepard; chaplain, Dr. Dennis S. Shannon; adjutant, Donald Marshall; sergeant-at-arms, Edward Sienkiewicz.
Officers of the auxiliary, which also were installed at the joint services, are as follows:  President, Mrs. Mabel Lawrence; senior vice-president, Mrs. Dorothy Burneau; junior vice-president, Mrs. Christine Rehor; secretary, Mrs. Edith Dewey; treasurer, Mrs. Eva Butterfield; chaplain, Mrs. Susie Brown; historian, Mrs. Marie Ruell; sergeant-at-arms, Mrs. Edward Sumpintsky; executive board, Mrs. George Millot, Mrs. Tennie Codding, Mrs. Hatties Mithles, Mrs. Anna Hannagan and Mrs. Diana Kendall.