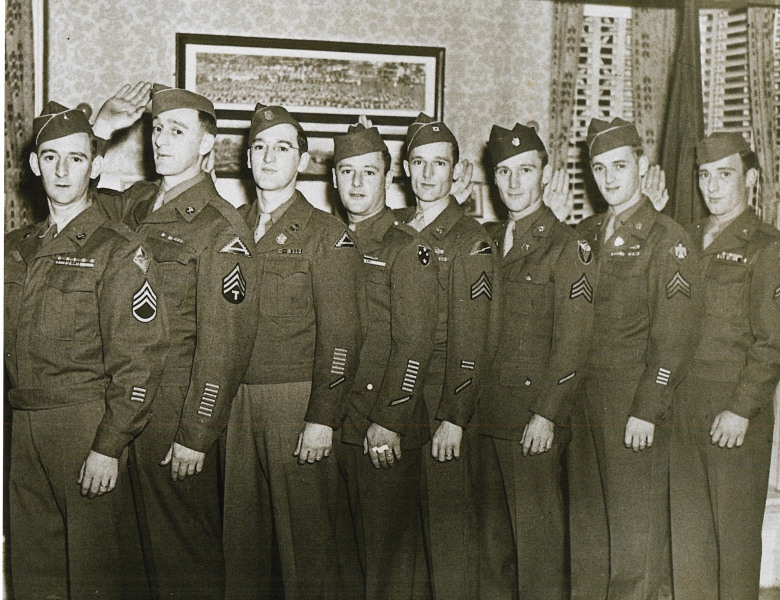 Theodore, (Heck) Bardsley is currently a member of Post 56, but during WWII; he and his 7 brothers served in WWII. Military historians verify that the Bardsley's were the highest number of family members to serve in the military at any one time. The brothers served a combined 338 months and earned 28 medals in total which includes two purple hearts.
In the late 1940's; they joined American Legion Post 156 in Waltham, Ma. This picture is from their induction ceremony and shows: Leonard, William, Robert, Lewis, Theodore, Harold, Walter, and Raymond. While they all survived the war; the only survivor now is Theodore who is a member of Post 56.
Heck recalls that; "I didn't join,(voluntarily); "I was invited to tour Europe, at no cost to me, by President Roosevelt." During his tour of Europe; Heck was stationed near Ludendorf bridge at Remagen, Germany, and survived attempts by German snipers to destroy the bridge as well as U. S. 24 Chaffee tanks, M8 armored cars, half tracks, jeeps, troop carriers, and 2 1/2 ton trucks managed in the garage.
In Jan. 2006, Heck and his wife; Doris moved to York, Me. and Heck subsequently joined the post.