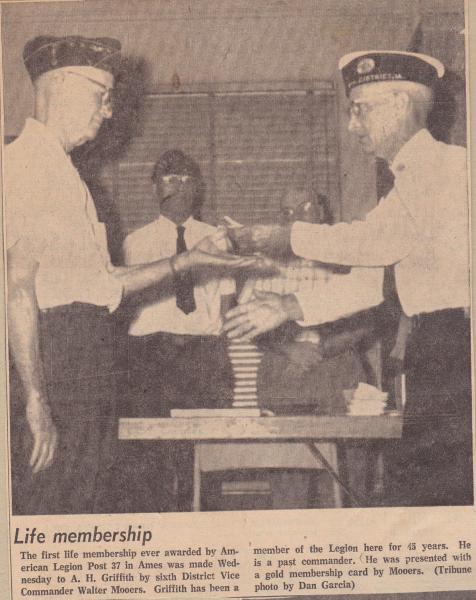 On June 6, 1962 the first ever Honorary Life Membership in Ames American Legion Post #37 was awarded to A. H. "Hugh" Griffith. Hugh was a longtime member of the Post and had served as Commander. Beyond that, he had set the example of a Legionnaire that continued to provide leadership to the Post in many functions. Among these was serving as chair of the Building committee when the mortgage on the current Post Home at 225 Main Street was retired in 1960.
The June 1962 issue of the Ames Iowa Legion News ran the following article.
"HUGH GRIFFITH, long time member of the Post was selected by the Exec Board last Wednesday night to receive the high honor of being nominated for a "Lifetime Membership" in the American Legion Post 37. The award is being made in recognition of High's devotion to duty through the years. Congratulations, Hughie, it couldn't happen to a better Legionnaire. Think we should schedule a party for the time the actual award is made. You've worked long and hard to help make this one of the outstanding Posts in the State, so let's have a party just for you."
Hugh was later given a gold membership card to denote his status as holding an honorary life membership. As shown, District Vice-Commander Walter Mooers, also a member of the Ames Post, made that award.
As part of being awarded the status as an Honorary Life Member, the Post takes the responsibility of ensuring that dues will be paid for that member for the remainder of their life.
A number of other Legionnaires, Auxiliary members and SAL members have been awarded that status. That group is shown in a separate gallery.