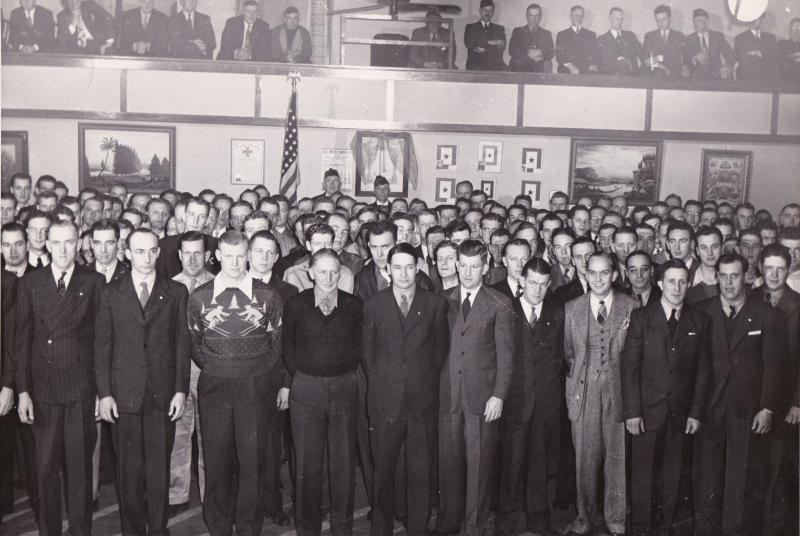 The picture shown here and two others in the gallery come from the historical archives of the Post. None of the pictures are labeled but conversation with members whose service dates to the period after WW II indicates that these pictures are of an initiation ceremony that took place at the Post, probably in 1946.
Obviously from the appearance of the ladies in two of the pictures, those two are of the same ceremony but we believe that all three pictures are all of the same ceremony since the gentleman with the sweater with two skiers on the front can be identified in all the pictures.
The pictures and thus the ceremony were taken in what was then The International Order of Odd Fellows Hall on the third floor of the current post home at 225 Main. The Legionnaires observing the ceremony can be seen in one of the pictures on the balcony that circles the most of the room.
That room spans most of the width of our building since the dividing wall apparently was not needed for load-bearing purposes. In it's heyday, that room would have been one of the high-class places in Ames to attend a function or dance. There have been discussions of trying to return it to its former glory but to date the finances required have been too large.
Initiation ceremonies have gone by the wayside in many posts including ours. The ceremony included a recitation of the preamble of the Constitution of The American Legion. Any who have attended a Department or National Convention know how impressive that recitation is when it is performed by a large number. Envisioning that recitation is a room like that picture by one hundred or more new members would have been a very impressive sight.