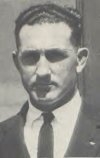 Minutes of the January 25, 1932 Post Meeting record the following:
Good of the Legion: Otopolik (sp) was called to the floor and congratulated by the commander on his appointment as wrestling coach for the American Olympic team and given a hand by the post. Otopolik (sp) responded and gave a short talk on his hopes and ambitions for the American team.
The member introduced was Hugo Otopalik, head coach of the Iowa State University wrestling team from 1924-1953. He was an active member of the post serving on many committees over the years. At the 1932 Olympics in Los Angeles, the US team finished with 3 gold and 2 silver medals, 3rd in the medal count behind Sweden's ten amd Finland's 8 medals.