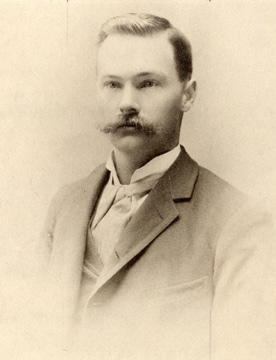 Among the names on the temporary charter application for Ames Post #37 is that of Anson Marston. Mr. Marston or Professor Marston as he was known then was not a typical World War I soldier.
He had graduated from Cornell University with a degree in civil engineering in 1889. In 1892 he joined the faculty of Iowa State University as Professor and Head of the Department of Civil Engineering. In 1904 he was promoted to Dean of the Division of Engineering.
He led many engineering projects at ISU, the city of Ames and around the nation. Among his accomplishments were the design of the water tower on the ISU campus and the supervision of the construction of the campanile and restoration of Lake LaVerne. He was responsible for placement of the Iowa Department of Transportation in Ames. Nationally and internationally he consulted on the Panama and Nicaragua canals, Mississippi River Flood control, Everglades Research Commission and the Columbia Basin Reclamation Project.
In 1917 he enlisted in the Army Corps of Engineers at the rank of Major and ended the war as a Lieutenant Colonel. He remained in the US Army Reserves until 1924 attaining the rank of Colonel.
The title of Distinguished Professor in the Iowa State University College of Engineering carries the name of Anson Marston as part of the title in recognition of the excellent service and leadership he provided to the University, Iowa and the nation.