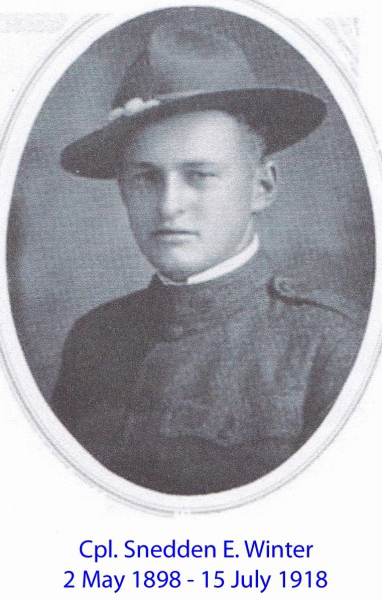 The Ames American Legion received their temporary charter on June 16, 1919.The Post received the number 37 as being the 37th post chartered in Iowa. The chartering period began on May 12, 1919 with Spencer receiving the honor of Post #1. Posts quickly chartered all over Iowa with 356 posts in existence on December 31, 1919. Iowa led the nation in the number of posts chartered that first year.
Fifteen veterans were required to apply for an American Legion post charter. Those fifteen for Ames Post #37 were: Geo. E. Corson Russell F. Rogers Earl M. Hart Wesley E. Shull O. B. Peterson Clay W. Stafford E. B. Bush Anson Marston J. H. Warburton Datus E. Proper Jas. B. Kelley Jr. Atlee B. Hart Jos. B. Gerlsacht R. W. Harry Benjamin G. Dyar Those names are shown on the temporary charter at the Post.
That temporary charter document also designates the Post as Snedden E. Winter Post #37 of Ames, IA. Many posts bear the name of a resident of that town killed in action, often the first resident of that town killed in action. Snedden E. Winter was a resident of Ames killed in action on the Champagne front on July 15, 1918 during an artillery bombardment. He was a member of Company I, 3rd Battalion, 168th Infantry Regiment, 34th Division.
Notes on the original temporary charter application housed at National Headquarters state that a letter was received from John MacVicar, Adjutant of Iowa, requesting that the name of Snedden E. Winter be removed and that the Post be named the Ames Post #37. No reason was given at that time but the request was honored.
It has been discovered from an Ames Community History published in 1964 that in November 1917 "All stores closed for the military funeral of James Luke Mattingly, Ames' first boy to die in the service of his country." Obviously Mr. Winter was not the first Ames resident killed in action. To this day, American Legion Post #37 in Iowa remains named Ames American Legion Post #37.