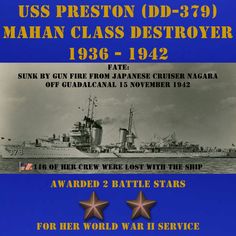 George Firman Thomas, Seaman 1st Class USNR, was lost at sea when his ship, USS Preston,
was sunk in the Battle of Guadalcanal. He enlisted in April 1942. His ship and crew were made ready in Hawaii. He was a Ridgefield High Graduate. His father is George R Thomas, American Legion Post 44.
" At 0035 on 15 Nov, 1942 USS Preston was in task force proceeding west between Guadalcanal and Savo Island in search Japanese ships. From 9000 yards the enemy was engaged. At 00351/2
the Preston was hit from port and starboard sides by 5.5 and 8 inch shells. She immediately
listed severely. Ship's Captain LCDR Max Stormes ordered abandon ship and the Preston sank in one minute. 135 men and 11 officers survived out of crew of 247 men and 15 officers.LCDR Stormes was lost in sea."
George Thomas was lost at sea. He is listed amongst the Buried at Sea in the American Cemetery
in Manila, Phillipines.
The Naval Battle of Guadalcanal and Iron Bottom Sound Allowed Allied forces to control the seas and air base in early 1943 and to continue to push back the Japanese forces.