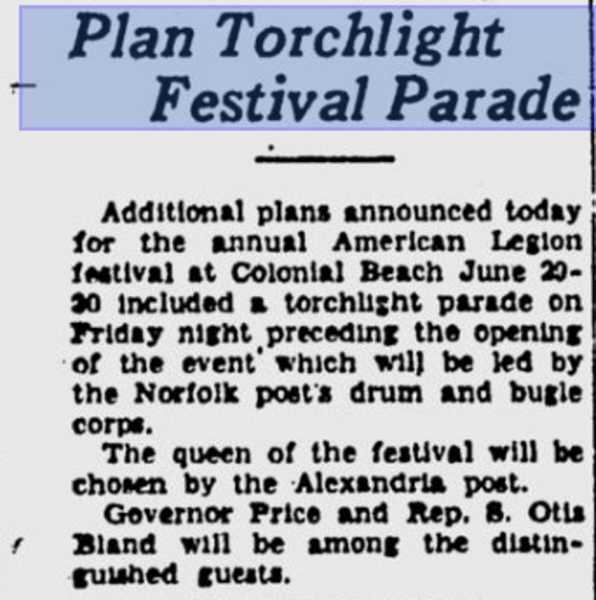 On June 28 - 30, 1940 our Post held its Fifth Annual American Legion Festival and Regatta. This gallery shows the program for the three day event. Highlights include:
June 28th - 40 & 8 Dinner at Linwood House followed by a torchlight parade and wreck at the Colonial Beach High School Auditorium. (editors note: I have no idea what wreck means in this context). A Grand Ball was held at Blackiston's Dance Pavilion with music provided by National Broadcasting band Dean Hudson and his Florida Clubsman. Miss Virginia McCullen was crowned Queen of the Festival.
June 29th - Featured a baby show, start of the Regatta, meeting of the Auxiliary, luncheon at the Colonial Beach Hotel and a concert by the Quantico Marine Band in honor of Governor James Price and Congressman Otis Bland. This was followed by a concert and exhibition drill by the Norfolk Senior Drum and Bugle Corps (American Legion)in honor of our government representatives. The Junior Drum and Bugle Corps' had a competition followed by a parade. The parade included Senior Drum and Bugle Corps participating from all over Virginia, Quantico Marine Band, National Guard of Honor from Washington D.C., American Legion Virginia Guard of Honor, Boy Scout Troops, Legionaires from Virginia, Maryland and Washington D.C. Posts and various VFW Auxiliary Units. Another ball was held, fireworks display and a 1940 Chevrolet was raffled.
June 30th - bathing beauty show held at the beach, and the regatta continued.
This article was printed by the Free Lance Star. A photo gallery of the program is in the photos section.