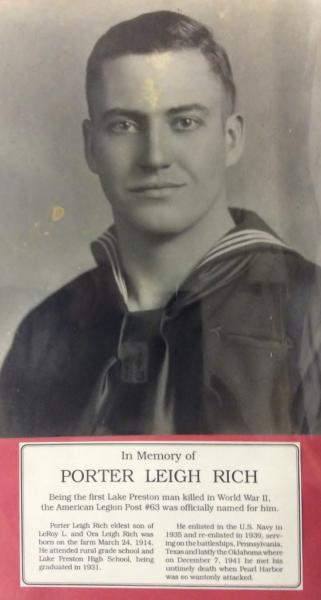 American Legion Post #63 in Lake Preston, South Dakota was named after Porter L. Rich, he the first person killed in action in WWII from Lake Preston, SD.
In Memory of
Us Navy Boiler Tender First Class
Porter Leigh Rich
Lake Preston, South Dakota
Kingsbury County
March 24, 1913 – December 7, 1941
USS Oklahoma at
Pearl Harbor, HA
Porter Leigh Rich was born in Lake Preston, on March 24, 1913. He was born to Louis and Ora Rich. Porter also had three siblings. One sibling who was older than he was Frances. The other two were younger. They were Fern and Alford Rich. Porter's hometown was Lake Preston; he attended grade school and high school there. Hunting, reading books, and studying trees were his interests and hobbies. Porter graduated from Lake Preston in 1931. He was married in 1941 to Margaret Lemkuhl in Yuma, Arizona. Porter and Margaret had one child named Ronald Leigh Rich.
Upon graduation from high school, Rich attempted to enlist in the United States Navy, but was rejected because of a heart murmur. He then worked at various odd jobs around the locality. He found a job in Irbine, CA. Not having any money to purchase a ticket, he hitchhiked across the country. When entering Nevada he was arrested for hitchhiking and was sentenced to 90 days on a chain gang. Upon completion of his sentence, he was taken to the California/Nevada border, given $10, and told never to enter Nevada again. A year or so later, he returned home for a visit and tried to enlist again. This time he was successful and went into training in San Diego, CA. He completed boot camp and was assigned to battleship USS Texas.
Later he was assigned to the battleship USS Pennsylvania. At the end of his enlistment, he tried various jobs, but it was in the middle of the great depression and jobs were non-existent. In the spring of 1939, he re-enlisted in the Navy for another four years. He was assigned to the USS Oklahoma. They were at anchor in San Diego when he and his girlfriend decided to go to Yuma, Arizona, to be married. While still on the honeymoon he was called back to the ship. September of 1941 was the date. The ship left immediately for Hawaii.
Porter perished at Pearl Harbor on the USS Oklahoma on December 7, 1941. At the time of the attack, he was the Boiler Tender 1st Class. His brother Ted remembers.
On the 10th of April 1942, we received a letter from Porter. We were so excited, and my mother began opening it. We then realized the letter was postmarked December 6, 1941. The mail had been laying on Ford Island all this time.
Porter L. Rich was buried in Hawaii in the Punch Bowl. His service was held at the Congregational Church in the afternoon. The minister in charge was Rev. H. C. Juell. Porter was awarded the Purple Heart, and other important things were sent to his wife after his death. His wife is still living in San Diego, and he has a son that lives in Phoenix, Arizona.
This entry was respectfully submitted by Dawn Ranschau, 8th Grade, De Smet Middle School, De Smet, South Dakota, March 20, 2002. Information for this entry was provided by Mr. Ted Rich, Lake Preston, South Dakota, brother of US Navy Boiler Tender 1st Class Porter L. Rich.