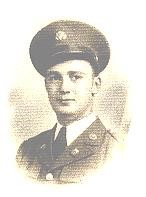 In Memory of Army Air Corps Staff Sergeant
 Orlando C. Nelson
Ramona, South Dakota
Lake County
February 28, 1917 – July 1, 1943
Prisoner of War in the Philippine Islands
Orlando C. Nelson was born on his family's farm in Ramona, South Dakota on February 28, 1917.  His parents were Nels and Ella Nelson.  He had one brother, Norris. They were raised near Oldham, South Dakota.  Orlando attended country school and Oldham High School. He graduated from high school in 1935.  During his early years, Orlando farmed in the Madison, South Dakota area. 
 In November of 1939, Orlando volunteered for the air corps.  He entered the service with a friend, Marlo Houske. Orlando took his preliminary training at Moffett Field, California. He was transferred to Chanute Field, Illinois. He was transferred again to Hamilton Field, California. In November of 1941, Orlando was sent overseas.
 He arrived in the Philippines on November 20, 1941.  He was stationed on Bataan Peninsula as a Staff Sergeant with the 21st Pursuit Squadron, 35th Pursuit Group.  He served as a radio operator and mechanic. He was taken prisoner at the fall of Bataan on April 8, 1942. Staff Sergeant Nelson was forced by enemy forces to be among the men on the Bataan Death March to prison camps.
 According to military records, Staff Sergeant Orlando C. Nelson died a prisoner of war in the Philippine Islands on July 1, 1943. Newspaper records indicate he died from beriberi, a disease caused as a result of an improper diet.  Due to the lack of information made available from the Japanese government to the International Red Cross, the exact date of death is not known.
 Orlando Nelson was laid to rest at the Oldham Lutheran Cemetery.  The burial was on Sunday, July 25, 1943, at three o'clock in the afternoon.
 At the time of his death, his parents, Nels and Ella Nelson; and his brother, Norris Nelson, all of who have since passed away, survived Orlando Nelson. Current survivors of Orlando Nelson, are his sister-in-law Arvilla Nelson of Oldham, South Dakota and many cousins in Oregon and Washington.
 Lucas Lange, 12th Grade, West Central High School, Hartford, South Dakota respectfully submitted this entry, February 28, 2002. Phyllis Leonhardt of Oldham, South Dakota and Lorelle Nelson of Anacortes, Washington provided information for this entry. Mrs. Leonhardt's mother and Lorelle Nelson were cousins to Orlando Nelson. The Lake County News of Madison, South Dakota also provided information for the entry.