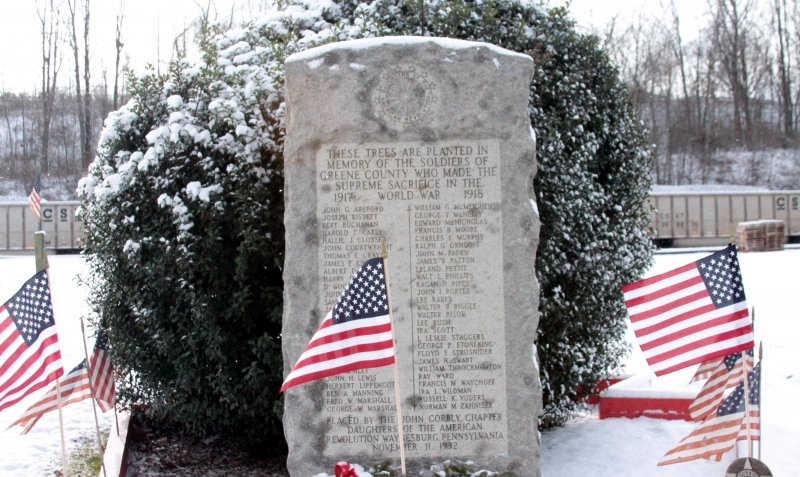 James Farrell Post 330 Charted date.  The Post is named in honor of the first Greene County resident to die in France on July 27, 1918 during World War I.  James Farrell would be the first of 57 Greene County men die this week.  These 58 men later became known to the local Greene County residents as the Rain Day Boys.  
In memory of the members of Company K, 110th Infantry, who fought and those who died in the taking of Ciergues Hill in Grimpettes Woods on July 28, 29, 30, 1918.
James Farrell's Sister Sarah during World War I, manned the telephone lines in the Greene/Washington Area.  She transcribed the incoming notification for James Farrell's family to be notified of his passing. 
Honor Roll of the men of Greene County who gave their lives in the World War.
Areford, John G. · Bissett, Joseph · Buchanan, Bert · Carey, Harold T. · Closser, Hallie, J. · Courtwright, John · Crayne, Thomas E. · Creel, James F. · Davis, Albert · Dunn, Harry · Durbin, D. Goodwin · Duvall, John G. · Ewart, Samuel H. · Farrell, James L. · Gabler, Allen K. · Grim, Jesse P. · Grinnage, Edward · Henline, Roy L. · Hickman, Floyd T. · Huffman, Floyd B. · Jacobs, Edward W. · Lemley, Max · Lewis, John H. · Lippencott, Herbert · Manning, Ben A. · Marshall, Fred W. · Marshall, George W. · Meighen, William G. · McNeely, George T. · McNicholas, Edward · Moore, Francis B. · Murphy, Charles E. · Orndoff, Ralph G. · Paden, John M. · Patton, James B. · Pettit, Leleand · Phillips, Walt L. · Pipes, Ragan H. · Porter, John I. · Raber, Lee · Riggle, Walter B. · Risor, Walter · Rush, Lee · Scott, Ira · Staggers, L. Leslie · Stoneking, George P. · Strosnider, Floyd S. · Swart, James H. · Throckmorton, William · Ward, Ray · Waychoff, Francis M. · Wildman, Ira L. · Yoders, Russell K. · Zahniser, Norman M.
Greene County World War I Memorial

Location: Waynesburg, PA 15370 Greene County
Country: United States of America
N 39° 53.776', W 80° 11.195'
The James Farrell Post 330 have faithfully maintained the monument donated by the Greene County Daughters of the American Revolutionary on November 11, 1985.  The DAR also planted one Elm tree in memory of each fallen comrade.  The monument is available 24/7.