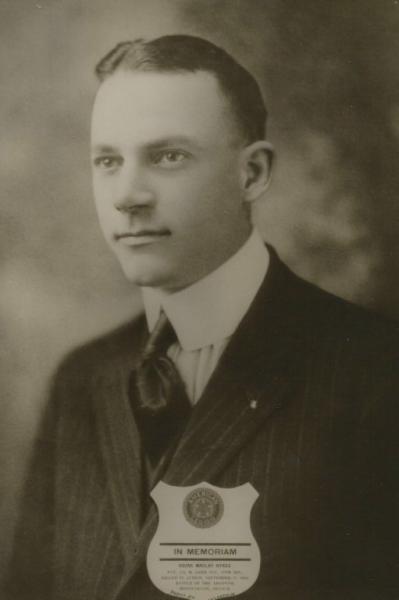 The American Legion Post #223 was named for Oscar M. Hykes, the son of the later Mr. and Mrs. George E. Hykes formerly of 48 West King St. He was trained at Fort Lee, Va and then was assigned to H Company of the 146th Ohio Infantry Regiment of the 37th Division. With this unit he went overseas in June, 1918
He took part in the Battle of Baccarat, the Battle of the Meuse-Argonne, and The Battle of Montfaucon in France. In this last action he was wounded and died Sept 27, 1918. After the war Oscar's body was returned for burial in the Spring Hill Cemetery Sept 21, 1921.
Before entering the service, Hykes graduated from Shippensburg High School, Conway Hall in Carlisle, and was attending the Wharton School of Finance ate the University of Pennsylvania when he was drafted.
In memory of Oscar M. Hykes, this tribute can be paid honestly. He was a manly soldier who wanted to serve his country in its hour of need. His exemplary action before his country's enemy in battle and his supreme sacrifice fully justify the American Legion Post No. 223 that selected his name as their namesake.
View more history for Post 223 in Shippensburg, Pennsylvania