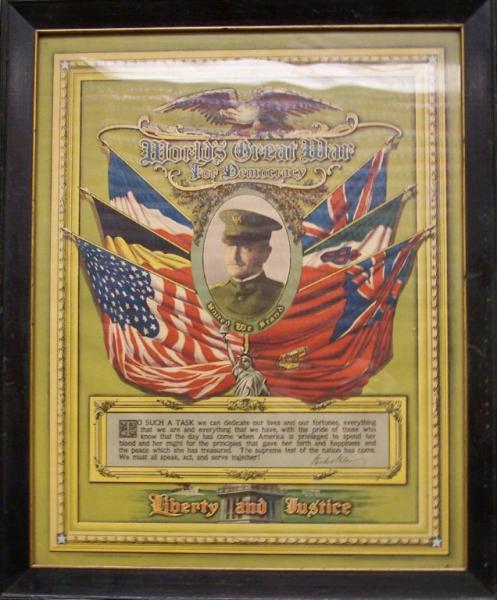 This Photo is the property of the Shippensburg American Legion Post 223
World's Great War for Democracy photo with General John J. Pershing.
In June 1903, Pershing was ordered to return to the United States. President Theodore Roosevelt, taken by Pershing's ability, petitioned the Army General Staff to promote Pershing to colonel. At the time, Army officer promotions were based primarily on seniority rather than merit,[15] and although there was widespread acknowledgment that Pershing should serve as a colonel, the Army General Staff declined to change their seniority-based promotion tradition just to accommodate Pershing. They would not consider a promotion to lieutenant colonel or even major. This angered Roosevelt, but since the President could only name and promote army officers in the General ranks, his options for recognizing Pershing through promotion were limited.
Portrait of Pershing by Léon Hornecker (1903)
In 1904, Pershing was assigned as the Assistant Chief of Staff of the Southwest Army Division stationed at Oklahoma City, Oklahoma. In October 1904, he attended the Army War College, and then was ordered to Washington, D.C. for "general duties unassigned".
Since Roosevelt could not yet promote Pershing, he petitioned the United States Congress to authorize a diplomatic posting, and Pershing was stationed as military attaché in Tokyo in 1905. Also in 1905, Pershing married Helen Frances Warren, the daughter of powerful U.S. Senator Francis E. Warren, a Wyoming Republican and chairman of the U.S. Military Appropriations Committee. This union helped his military career.[16]
After serving as an observer in the Russo-Japanese War attached to General Kuroki Tamemoto's Japanese First Army in Manchuria from March to September,[17] Pershing returned to the United States in the fall of 1905. President Roosevelt employed his presidential prerogative and nominated Pershing as a brigadier general, a move which Congress approved. In skipping three ranks and more than 835 officers senior to him, the promotion gave rise to accusations that Pershing's appointment was the result of political connections and not military abilities.[18] However, many other officers supported Pershing and believed that, based on his demonstrated ability to command combat forces, the promotion to general, while unusual, was not unprecedented or out of line.[citation needed]
In 1908, Pershing briefly served as a U.S. military observer in the Balkans, an assignment which was based out of Paris. Upon returning to the United States at the end of 1909, Pershing was assigned once again to the Philippines, an assignment which he served until 1912. While in the Philippines, he served as Commander of Fort McKinley, near Manila, and also was the governor of the Moro Province. The last of Pershing's four children was born in the Philippines, and during this time he became an Episcopalian.
View more history for Post 223 in Shippensburg, Pennsylvania