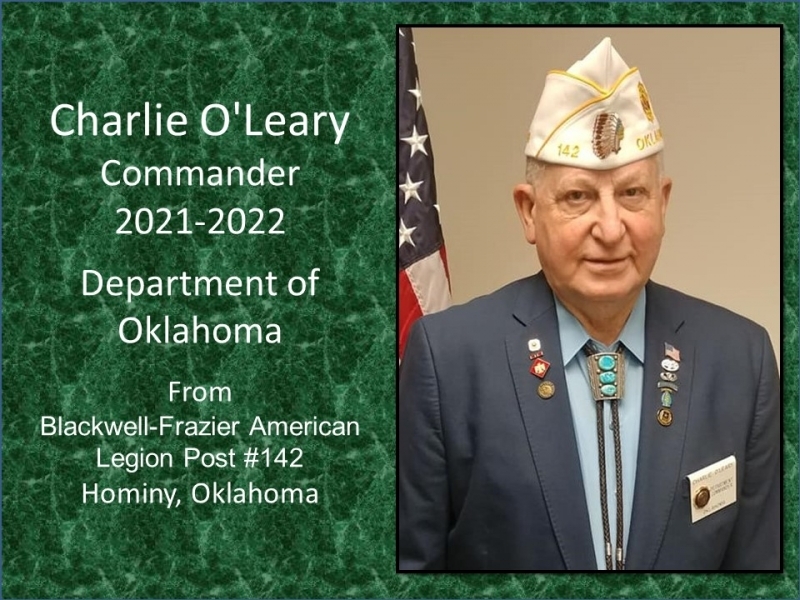 STATE COMMANDER THE AMERICAN LEGION DEPARTMENT OF OKLAHOMA
CHARLES S. O'LEARY, LTC [RET], USA, POST 142 HOMINY, OKLAHOMAMILITARY SERVICE:
Charles O'Leary joined the US Army in 1967, taking Basic Training at Ft. Polk, LA and Infantry Advanced Individual Training at Ft. Dix, New Jersey. I volunteered for Special Forces training as an SF Medic, was sent to Airborne Jump School at Ft. Benning, GA and then to SF Training Group at Ft. Bragg, NC, Fort Sam Houston, TX, Reynolds Army Hospital Ft. Sill, OK and back to Ft. Bragg where I graduated as a Green Beret in 1968 and was assigned to 1st Special Forces Group in Okinawa attaining the rank of SSG [E-6]. Upon discharge from Active Duty in 1970, I was assigned to 12th Special Forces Group in OKC assigned to a Green Beret A-Team until honorable discharge in 1973.
I joined the 45th Infantry Brigade of the Oklahoma Army National Guard in 1980 and was appointed at Warrant Officer-1 Physician Assistant, serving 29 years as an Army PA, mostly with Artillery and Infantry Battalion Aide Stations and was the Charlie-Med Company Commander of 700 SPT BN for four years and served as BN and BDE Surgeon. I graduated from Army Command and General Staff College. I had several medical mission overseas assignments in Honduras, Equator and Bolivia, was deployed to the Sinai as part of peacekeeping force and two assignments with OEF in Afghanistan of 15 and 18 months, finally retiring in 2007 at age 60 with the rank of Lieutenant Colonel.
His military awards include Combat Medic Badge, Parachutist Badge, Special Forces Tab, Bronze Star, Defense Meritorious Achievement Medal, Army Commendation Medal, National Defense Service Medal with 2 campaign stars, Afghanistan Service Medal with campaign star and numerous other awards and is the only medical PA in the State to be awarded the Order of St. Barbara for Artillery and the Order of St. Maurice for Infantry.
CIVILIAN SERVICE:
Charlie has been a practicing Family Medicine PA in Hominy and Cleveland for 45 years seeing thousands of patients from Osage, Pawnee and surrounding Counties and is seeing his fourth generation of Pediatric patients. I is a credentialed VA Community Care Provider and the clinic I work at in Cleveland, OK is an also a VA Outreach Clinic serving veterans across Northeast Oklahoma and beyond.
I also spent 20 years working as a PA with the Department of Corrections at the Dick Connor Correctional Center in Hominy with a reputation of being "firm but fair" to offender patients.
I and my wife of 52 years, Nancy, have 3 married daughters and 5 grandchildren. I served on the Hominy School Board for 15 years, writes weekly military and Post columns for the local newspaper, is active at St. Mary's Catholic Church and is a past Kiwanis Club Lt-Governor for NE Oklahoma.
I am active in several military organizations including Special Forces Association, 82nd Airborne Association Oklahoma Chapter, Marine Corps League and VFW.
LEGION EXPERIENCE:
In the American Legion Charlie has been a member of Post 142 in Hominy, OK since 1976, serving as Historian, Adjutant, Vice-Commander, Post Commander 1979-82 and 2011-2019, District 1B Commander 2016-19 where I was instrumental in the Internal Affairs investigation of a Post in NE Oklahoma that resulted in five legionnaires expelled for life, four suspended for one year and the Post suspended for one year and was instrumental in the 180 degree turn-around of the Post which is one of the better ones now in District 1B. I was Vice-Commander East 2019-2020 and Department Senior Vice-Commander 2020-2021 instrumental in positive outcomes in several troubled Posts this past year across the State.
His wife Nancy was Oklahoma Auxiliary Department President in 2018-2019 when Charlie was "First Husband" and survived the year!
REASON FOR BEING COMMANDER FOR DEPARTMENT OF OKLAHOMA
I have been in the American Legion since 1976 and served on Active Duty in the US Army and in the 45th Infantry Brigade with the Oklahoma Army National Guard for 35 years. Once Nancy and I returned full-time to civilian life we naturally gravitated toward fellow veterans, initially as people we had something in common with and could talk to and then became involved in helping veterans, supporting our community of Hominy, Oklahoma on the Osage Indian Reservation and eventually expanding our efforts at the District and Department level in the Legion and Auxiliary.
I want to be State Commander of the American Legion Department of Oklahoma to expand and continue the work I have been doing these past several years to assist veterans across the State. I believe in the Army values of Loyalty, Duty, Respect, Selfless Service, Honor, Integrity and Personal Courage also known by the acronym LDRSHIP or "Leadership". My intent is to utilize these leadership values through the American Legion to carry out this mission of helping veterans.
MY MOTTO:
My motto for the upcoming year is "No One Left Behind". As an Army Special Forces Medic and Army PA during my military career, I have followed this principal and continue to do so at the present time in my medical practice assisting veterans that I see.
As Legionnaires we have an obligation to leave no one behind. I am committed to the Legion Family and will include the American Legion Auxiliary, the Sons of the American Legion, and the Legion Riders in as many of our Legion activities as possible. We need to all work together to help each other and help our State veterans.
I want to reach out to other veteran groups across the State such as the VFW, DAV, Marine Corps League, Special Forces Association, 82nd Airborne Association and others to work together in a joint effort to help our veterans.
OUTSIDE THE BOX:
I like to think outside the box and reach out to groups in our own organization, Women Veterans, Native American Veteran Groups, Hispanic and African American Veterans in our communities, so if any of these veterans have a problem or concern, they will know they can come to the American Legion and we will help. I am committed to supporting the Governor's program of reintegration of Department of Corrections veterans who have served their time and are returning to our communities and need our help. We need more Service Officers across the State, and I am committed to increasing that number, spreading the word that we are here to help and facilitating the paperwork process to successful completion to get our veterans the assistance they deserve.
VIETNAM ERA TO AFGHANISTAN:
For we Vietnam Veterans, the problems with Agent Orange that is killing many of our members 50 years later, needs to be focused on and overcome the obstacles that the VA still has in place.
For we Afghanistan and Iraq veterans the 22 suicides per day of our brother and sister veterans is a national disgrace and we must reach out to these veterans, be there for them and get them the assistance they need to prevent these needless deaths on our soil.
SCHOOL DOCENT PROGRAM:
I would like to see a School Docent Program started in every community that has a Legion Post. We need to teach young people about Americanism and the sacrifices our military men and women have made for this country.
COMMUNICATION IS THE KEY TO SUCCESS:
In the Army Infantry we were taught to "shoot, move and communicate" to ensure mission success. The key is communication and in today's world it is Information Technology. I would like to see a computer in every Post and be able to train someone in the Post to operate it to conduct Legion business, communicate with all members via smart phone group texting, emails, mailings, and even old-fashioned face-to-face contact and talking. The times are changing, and we must change with them.
We need all veterans in the net.
STEP UP TO LEADERSHIP:
We need more veterans to step up to run for office at the Post, District and Department level. A great way to do this, is to volunteer to be an Appointed District Vice-Commander where you may be assigned to visit one Post per quarter to see what they are doing, what problems they have and how we can assist. Instead of having the Posts going to State HQ for solutions, we will have Department and District leadership coming to the Posts to listen and act. CHARLIE MIKE-Continue Mission!
BRANDING:
Be proud of being a Legionnaire. Wear our patch proudly wherever you go, so people will know who you are and that you are someone special, a member of The American Legion!
HONOR GUARDS:
Most of the WWII and a large share of the Korean War veteran and more Vietnam Veterans have passed on to the Post Everlasting with each passing day. With all the veteran funerals we need more Honor Guard formations across the State. I plan on organizing Honor Guards by District and coordinating with other Veteran's Groups to increase the number of Honor Guards across the State.
BOTTOM LINE:
I am a retired US Army Lieutenant Colonel, Chief Warrant Officer 3 and Staff Sergeant and active Legionnaire who is not afraid of engaging and attacking the tough problems facing us to do the right thing for our veterans and am willing to accept the challenge of being your next State Commander.
I appreciated your support and vote.
View more history for Post 213 in Department of Oklahoma, Oklahoma