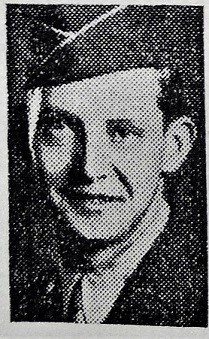 Pfc Francis Woodcock US Army Air Corp died July 6, 1945 in what is belived China,  Son of Mr. and Mrs. Irvin Smith of 30 Venman Ave., Frewsburg, NY. Francis went to Frewsburg Schools and had worked at an area dairy farm before his enlistment. At the time of his death he was assigned to Company G of the 475th Infantry.  His unit had just moved through Burma and entered China.  He is buried at National Memorial Cemetery of the Pacific. He was awarded Bronze Star Chinese Order Ynu Hui. Besides his parents he was survived by a sister Mrs. Isabelle Johnson of Frewsburg.
Burma-China topography was unfavorable and always an obstacle. Pack mules were heavily used with no motor vehicle roads available. There are several archived Army Burma-China videos that demonstrate conditions that Francis and fellow soldiers had to endure. 
http://ww2f.com/threads/g-company-2nd-battalion-475th-infantry.70539/
www.criticalpast.com/video/65675050911_475th-Infantry_pack-mules_World-W...
http://www.criticalpast.com/video/65675050910_475th-Infantry_flapjacks_B...
The China-Burma-India portions of  WW II were not as well covered as other locations, partly due to the remoteness of the regions.   At the time of Pfc Woodcock's death, the details surrounding his death were limited.  Years later we learned of conditions and courageous battles fought in what is known as CBI.