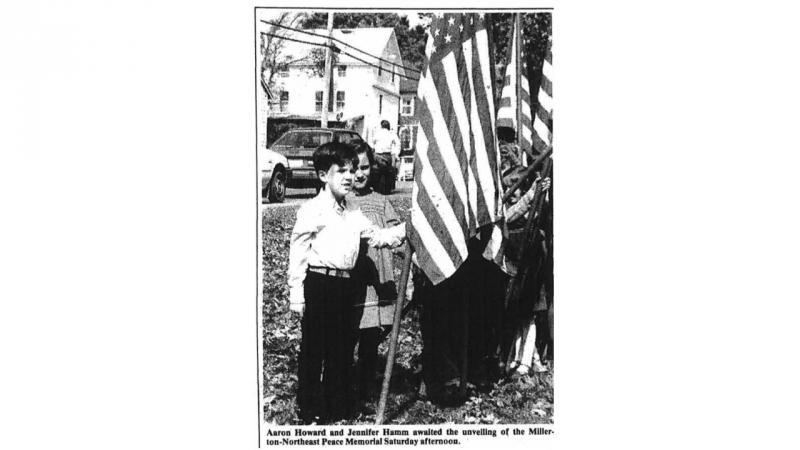 On Saturday, Oct. 10, the Millerton
Peace Memorial Dedication was held
in Millerton. The monument is really
beautiful to see.. It is dedicated in
honor and in memory of the valiant
men and women of the Town of Northeast
who served in our nation's conflicts.
Plans for the memorial were
formed over a year ago, the weekend
after Labor Day. The local American
Legion had asked the town to add the
Vietnam War to the bronze plaque,
according to peace committee chairman
Dick Valentine. One year and
$20,000 later, the 14-foor granite
monument stands wrapped in green
plastic in the town park. Valentine and
his daughter, Jean, have been inscribing
names on the granite steps
that will lead to each of the five sides.
The committee decided to have a five sided
design so it would be visible from
all sides. Veterans gathered at the
firehouse before 1 p.m. on Saturday,
Oct. 10, and there were many that
came in full uniform which they really
looked nice. They had a small parade
in which the uniformed veterans led
the march, followed by the American
Legionnaires which included Amenia
Post 319. Harry Schroeder gave a five minute
address and Eugene Brooks called the honor roll, which was
followed by the dedication of the
monument. Cannon shots were heard
while the honor roll was read. The
Webutuck Junior Band and other
children played important parts in the
in the ceremony. A huge American
flag was lowered by the Methodist
Church which was followed by the
releasing of red, white,' and blue
balloons into the air. Msgr. Gallagher
gave the blessing. The ceremony was
followed by a block party in which all
were invited. Music was furnished by
the Salisbury Band who played all time
music. There was a real breath-taking
show of an airplane stunt man who
really did a super job in flying for all to
see. The day was just perfect for this
very special day. Many thanks to all
who did a superb job in- planning this
very effective job on the beautiful
monument. If you have a chance, go
up and see this beautiful monument.
They also sang the Air Force Song, Coast
Guard, Navy, Marine, Army and for
the finale, "God Bless America" which
was beautifully done. A day to
remember for a long time.
*Taken from the October 14th 1987 edition of the Harlem Valley Times, page 13