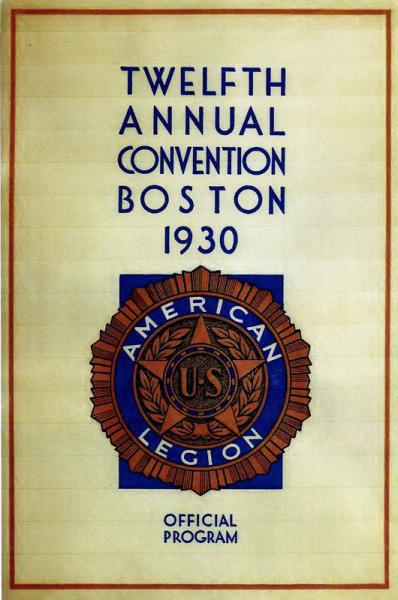 The Twelfth Annual National Convention of the American Legion was held in Boston, MA from 29 Sept. to 9 Oct. 1930.
NH delegates to the 12th National Convention in Boston were:
Dr. Forrest J. Drury, Londonderry; Frank N. Sawyer, Weare; Maurice F. Devine, Manchester; Clarence F. Worcester, Keene; Clyde Hannant, Greenville; Edward J. Campbell, Exeter; Damis Bouchard, Manchester; Thomas N. Troxell, Concord; George F. Richardson, Lebanon; Clarence Fielden, Franklin; Dr. P. A. Pion, Littleton.
From the front page of the Nashua Telegraph, Oct 9, 1930.
"Boston, Oct 9. (AP) - Ralph T. O'Neil of Topeka, Kans., was elected national commander of the American Legion at today's session of the national convention.
O'Neil defeated Munroe Johnson of Marion, S. C.. the only other candidate whose name went before the convention. The vote on roll call of the state delegations was: O'Neil, 879; Johnson 346......."
https://news.google.com/newspapers?id=ExNAAAAAIBAJ&sjid=i6QMAAAAIBAJ&pg=...