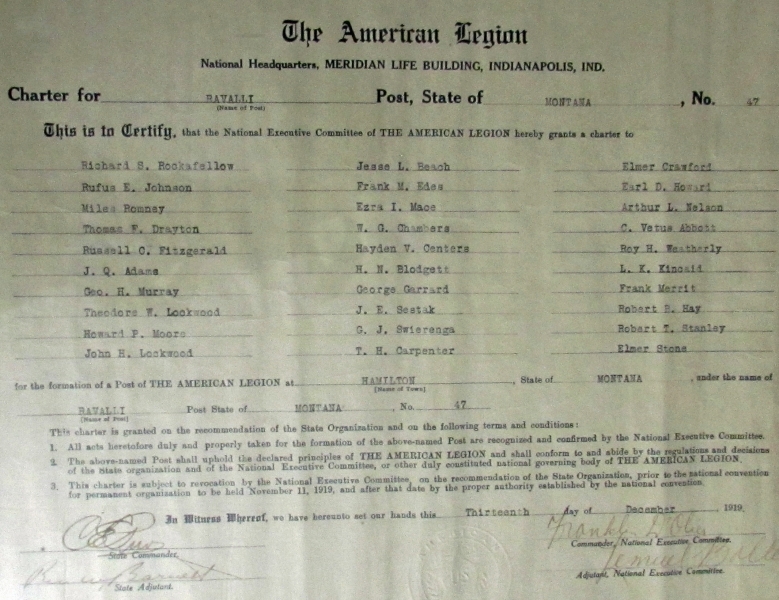 The Post was organized in 1919 and was named "Ravalli" Post, which covered Ravalli County. T.W. Lockwood was name its first commander. Lockwood was a farmer at Woodside, he named Francis M. Bishop, who worked for Bell and Reinbold Ford Co. in Hamilton, to be his right hand man. Bishop was known to everyone as "Frenchy". Frnchy was the driver of Reinbold's Ford Racer. Frenchy won lots of hot races. However, he had time to do a little work for Commander Lockwood and the Post.
Frenchy signed up enough members so that they could apply for Charter. These veterans were Lockwood, Bishop, Blood, Timmons, Nelson, Hays, Murr, Johnson, Higgons, Taylor, and Wheeler.
The first meeting was held at the Woodside Hall and the second at the Burns dance hall. Then at a party in Woodside Hall, Commander Lockwood got the guests quieted down long enough for them to hear the good news - the Post's Charter and By-Laws had been approved and arrived, after which the party continued until four in the morning (Moonshine was the main drink). The party wound up at the Model Cafe for breakfast.
The first year's activities were parties, dances, and having fum. The charter was issued December 13, 1919. However, another veterans' organization was formed before the Legion in the valley. It was known as the Ravalli County Association of World War Veterans, with E.I. Nielson as its secretary. Later this organization disbanded and its member joined the Legion.