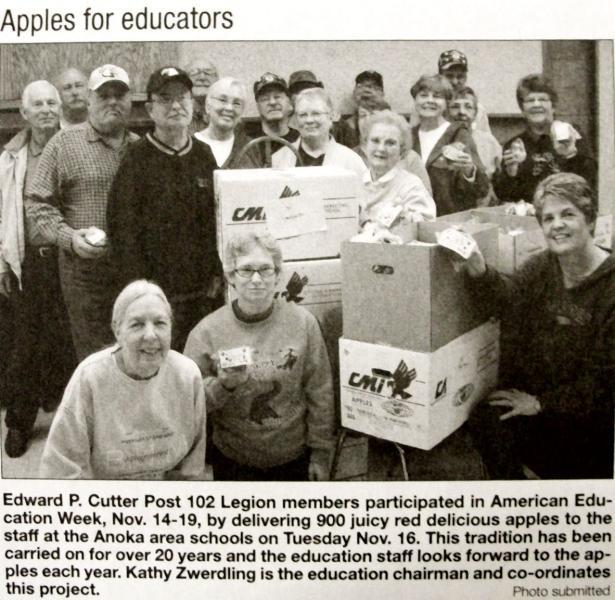 In keeping with the Post and Auxiliary's promotion of Children, Youth and Community, they have long been advocates of education and champions of the American Education Week. In the thirties, a program was started to recognize educators: teachers, staff, cooks and custodians. Schools have included those in Anoka, Coon Rapids and Champlin. Early on, the program became a two way street, with each side acknowledging the efforts of the other. In 1936, the Post and Auxiliary were given an Honorary Award from the National Education Association.
Programs were held annually by the Post and Auxiliary; which included entertainment, food, refreshments and activities, such as cards and dancing. Patriotic and humorous skits were performed as well as vocals. There were also instances of Auxiliary members serving coffee at the schools over a two day period.
In the early fifties, the program shifted gears. Auxiliary Unit member, Netha Feist, co-founded an "Apples For Teachers" program, that is still in place today. The American Legion Family members buy, bag and deliver as many as 800 apples to teachers, staff, cooks and custodians to 9 Anoka schools.
[(Photo, courtesy of-) "Apples for educators." Anoka Union 16 Nov. 2010: Print.]