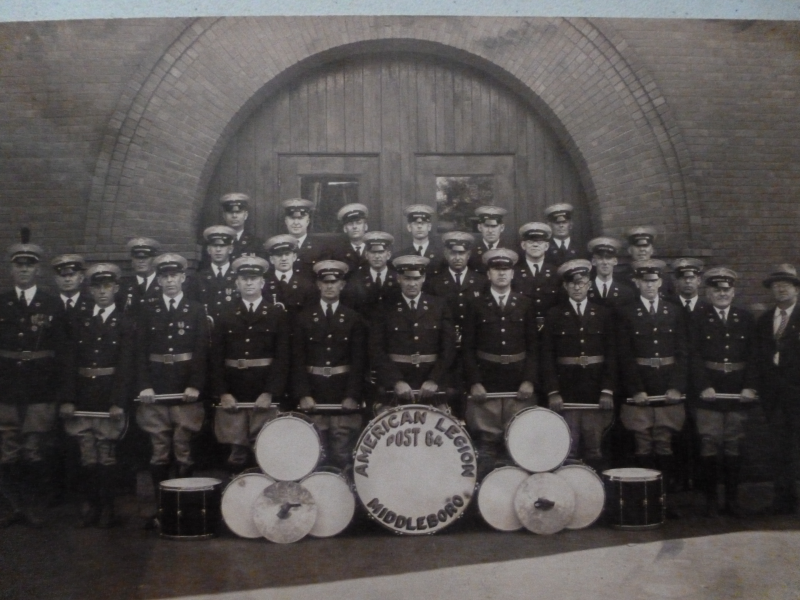 Members of the American Legion Simeon L. Nickerson Post 64 pose in front of the Bates School with orgnizer James McNeece, right, who was instrumental in organizing the marching unit.
According to an article in the Middleboro Gazette, the unit made its first public appearance at a parade in Middleboro. McNeece also booked the group in other cities and towns. The drum and buge corps also participated in the National Legion Convention parade in Boston. It was reported that local supporters waited nearly all day to see the marching band pass by the State House.
Twenty-seven Post members were in the band. Pictured in the first row are (left to right) : Norman Bryden, drum major; Carmi Beach, Roger Anderson, Ed Kelley, Joseph Michael, Charles Fickert, Henry Basinet, Millard Raymond, Harold Tessier, Kenrick Washburn and John McNeese.
Second Row:- Romeo Millette, jackLeary, Joseph Dutra, Henry Powell, Joseph Lavallee, Charles Card,--Johnson, Herman Fuller, Pat McMahon and --Maranville.
Third Row:- Clifton McCrillis, Howard Shurtleff, Charles Farrington, George Dunham, Bill McMahon and Tim O'Leary. (Posted by Bob Lessard Post Historian 2014)
View more history for Post 64 in Middleborough, Massachusetts