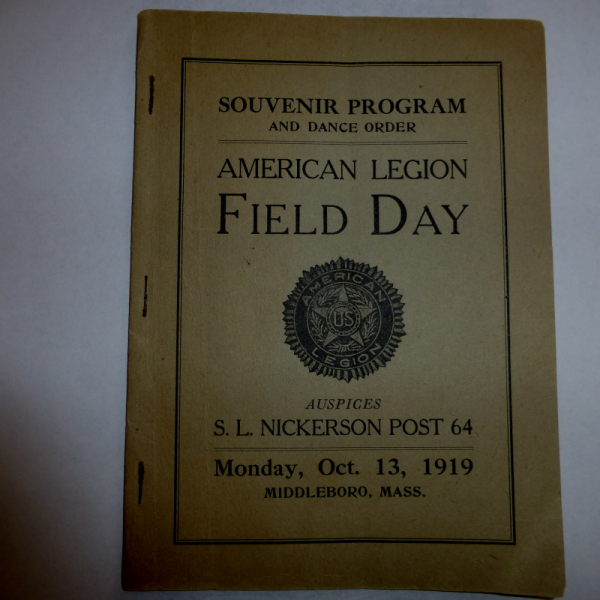 October 13, 1919…American Legion Field Day under the Auspices of S. L. Nickerson Post 64.
A souvenir program and dance order listing, which promoted an American Legion Field Day under the auspices of Simeon L. Nickerson Post 64, dated Monday, October 13, 1919 was sponsored by many of the town businesses.
Listed events of the day, according to the program, included a Midway, which was established to the rear of the Town Hall. It was open from 9 a. m. to midnight. Unless specified all athletic events were run off on South Main street near the Town Hall.
At 10 a. m. was a ball game to be played at the playgrounds between Middleboro and the Middleboro Independents. A tug of war between the Army and Navy was held at 11:30.
All desirous of entering the various races handed in their names to P. J. McHahon, chairman of the sports committee.
In addition at 1:10 p. m. a one mile run took place. Other races were completed starting from 2 p.m. through 3 p.m. They included a 100 yard dash; 440- yard dash; three-legged race and a sack race. Following those races a band concert was held between 3 and 5 p.m. by the Bay State Band with singing.
A potato race was held at 3:15 and a Tug-of-War was contested between the Legion and the Fire Department at 3:30 p. m. From 6 to 8 another band concert with singing was held. A dance was conducted in Town Hall from 8:30 p. m. until 1 a. m. Tickets for the dance were to be turned in at the Box Office at the Town Hall.
Heading the Field Day Committees were: General Chairman, Thomas B. Walsh; Treasurer, Malcom C. Drake: and Assistant Treasurer, William J. Begley.
Kendrick Washburn, chairman of the Midway Committee was assisted by Earl Dempsey. Walter Beckman, William Hewitt, Eben Shaw, Marshall Snow, Charles Chute, Joseph Ellis, Roger Jenks, Edward Kraus, S. . McFarlin, Ira Maddigan, Richard Matthews, Manuel Rose and Maurice Scanlon.
Leading the advertising committee was chairman Thaddeus King. Members were Thomas B. Walsh, William J. Begley, William J. Robb, Albert E. Soule, Fred G. Maddigan and Howard Shurtleff.
Parker H. Kennedy was in charge of the dance. Grounds committeemen were Carl G. Kendall, chairman, Darragh Higgins, Cecil Deane and Forrest B. Standish. Ice cream was handled by Dan Warren, chairman, Ed Card, Fred Fies, Lorenzo Pittsley, Sam Rosenblatt, Emile Savard, Clarence Soule and Warren White. Tonics saw ten boy scouts supervised by chairman Winfred Perkins.
Sales of candy was chaired by Edward Farley and his committee consisting of Albert Soule, Harold Tessier, Harris Tripp, Garrett Whitty, Herman Fuller, Ben White, Ed Kelly, Alfred Kraus, Alfred Lang, Franc Perry, Raymond Perry, Paulinas McCann and Ralph Longfellow.
Cigar and Cigarettes were under the committee chaired by Stanley Alger. The committee was comprised of Charles Kennedy, Walter Campbell, Eugen La Plante, John Danielson, Lester Leland, Joseph Dutra, Louis Perkins, Chester Guilford, Russell Perkins, Lester Hunter, James Quigley, Roy Huntley , Azel Thayer, Everett Caswell, Sidney Thomas, Everett Wilard, Richard Bowen, John Sullivan and Frank Briggs.
Kenneth Keedwell chaired the novelties committee, whose members were Thomas Tate, Edward Bailey, George Barney, Solomon Bailey, Robley Buckman, Leslie Gates, Roger Kelly, Robert Shurtleff, James Sheehan and Lester Hawkins.
Music Committee members included chairman Ralph McQuade, William J. McMahon, Romeo Millette, Ralph Nickerson, Morton Braley Harold Dunham, Raymond Nourse and Chessman E. Coombs.
An eleven member committee was responsible for the subscription tags. They were chairman Roger Wood, Forrest Standish, Charles Allen, Charles Farrington, William J. Robb, F. Clark, Frank Moriarty, Walter Beckman, Harold Saunders, Francis Baker and Ira Amsden. Mrs. J.H. Burkhead, in charge of American Girl Scouts, will assist Roger Wood.
Page two with advertisements for the Park Theatre, C. P. Washburn Est., Dentist Dr. R. G. Butler, J. C. Bonton and Son grocers, Bryant & Soule coal and grain….also carried in the center of the page information about….. "Sgt. Simeon L. Nickerson, Killed in Action at Trugny, 2nd Battle of the Marne, July 23, 1918, for whom the Middleboro Post is named." On page three of the program is a photograph of Simeon L. Nickerson.
..................(Posted By Bob Lessard Historian Post 64 2014)
View more history for Post 64 in Middleborough, Massachusetts