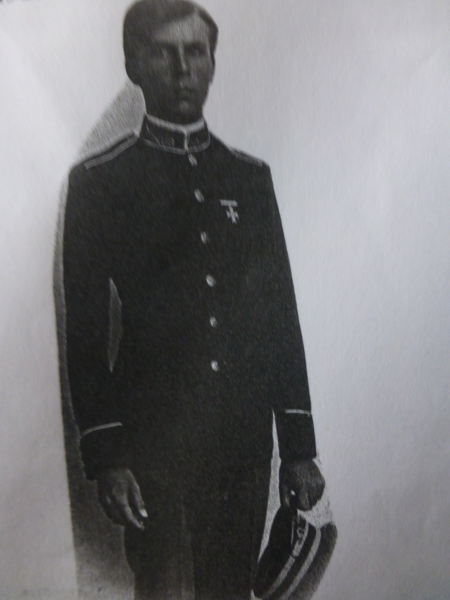 Middleboro American Legion Post 64 was named after Simeon L Nickerson by a vote of membership during the Post's second meetlng.
Simeon, a local resident, was killed in acfion on July 23, 1918 near Epieds, France according to Mertie E. Romaine's' History of the Town of Middleboro, Massachusetts, 1905-1965.
She wrote "He was killed in the advance of July 23, 1918. Born in Rochester, Massachusetts, he came to live in Middleboro when an infant. His mother died when he was three ard his father when Simeon was six years old after which he made his home with his grandparents on Warren Avenue, Middleboro. After the death of his grandparents, Simeon joined the regular Army, Co. A, 17th Infantry. Concluding his term of service, he enlisted in Co. D, then the old 5th Regiment, Massachusetts National Guard, at the outbreak of trouble with Mexico. In 1916 he went with his regiment to the Mexican border. On his returm, he remained a member of Co. D, 101st Infantry, with the rank of sergeant on August 5, 1917, going overseas a few days later. Sergeant Nickerson was mustered into the Army on August 8, 1917 and served overceas from September 17, 1917 until his death on July 23, 1918."
Simeon L. Nickerson was the first Middleboro man killed in action during WWl, according to reports.
Among the historical documents recovered during Post 64's recent move were several handwritten items filled out and signed by Sergeant Simeon L. Nickerson. One item was an informational reply card sent to him by the Service Committee, Middleboro Commercial Club, c/o J. H. Creedon, which was postmarked January 6 by the U.5. Army Postal Service. The envelope bears
Nickerson's signature in the right upper corner where a stamp normally was placed. He also competed additional information as part of the free mailing under the "Soldiers' Mail" space, which he included "Co D, 101 U.S, Inf." His mailing was censored by a 2nd Lieutenant of the 101 Infantry. (The Commercial Club appears to have been a group of local business and influential town citizens which sent gift packages to Middleboro's servicemen. The group maintained an alphabetized file card system of all the Middleboro men serving during WW1.)
A letter, written on Young Men's Christian Associations of the United States of the National War Council stationery was written at the same time Nickerson filled out the reply card and is dated France Dec. 23, 1917.
His letter reads: *Dear Sirs, I am sure that we all from Middleboro appreciate what the Commercial Club has done & is doing for our benefit. I asked the fellows from Middleboro if they received a letter & it seems that they all have. We haven't received our packages as yet, but without a doubt we will Christmas. I am filling out card you requested & will write again as I receive package. I wish to assure you all again that we appreciate what you are doing for our benefit. I will close now. Hoping to hear from you all soon. I remain sincerely yours, Sgt Simeon L. Nickerson (signature) Co D 101 Inf via New York. Censored by 2nd Lt W.L. Francis, 101 Inf.
A signed Nickerson follow up post card dated Dec 25, 1917 was sent to the Commercial Club acknowledging receipt of the Christmas package. that card was also censored by an officer.
The reply card, which Nickerson filled out, listed among other things, his age (25), his unit and his next of kin, an uncle, Simeon L. Nickerson of 5 Barrows St, Middleboro. The card was also stamped in purple with the words "American Expeditionary Force". (A notation in ink was written on the card by a Commercial Club member "Killed in action July 23, 1918).
Sergeant Simeon L. Nickerson lost his life during an heroic venture with two other brave individuals. Middleboro residents first teamed of their heroic exploits through the writing of Boston Globe columnist Frank. P. Sibley in his article "Brave New Englanders in the Battle of the Marne." In his description of the many brave acts of the American soldiers in this terrible battle, Mr. Sibley wrote, "perhaps the most deliberate thing of the whole story was the act of Serg. S.L. Nickerson of the scouts with Corp. M.J. O'Connell and Private Thomas Ryan. These men were out ahead of the line of outposts and the infantry they were protecting was pulled up by machine gun chattering in the woods opposite them. An open field lay between, and these three deliberately volunteered to walk out into the field and draw the fire. The guns had to be located; otherwise the advance must stop, which was impossible, or else scores
must be killed. They went. It was certain death of course and they took it with their heads up, saving the lives of a great many others"' the report says.
Sergeant Nickerson, Corporal O'Connell and Private Ryan were awarded posthumously the Distinguished Service Cross for their heroic actions.
A letter from Nickerson's commander to a Mrs. James A. Lester was reprinted in the Middleboro Gazette edition of November 15, 1918 under a one column headline "Tribute to Sergeant Nickerson." It was dated Sept. 19, 1918 and it read: "Dear Mrs. Lester, I regret to say in the words of General Shelton, Sergeant Nickerson 'paid the debt in full'. He was in my platoon just previous to joining the intelligence section of the lst battalion, therefore as I have lived in close association with Sergeant Nickerson for several months I feel that there should be some weight given to my opinion of him. He was most conscientious in the carrying out of his
duty. He was very popular with the other members of the company and if I assigned him a task I was satisfied that it would be performed rightly. The night before his death, he visited me in the trench where our company had halted. He left me and the following morning, July 23, he advanced in front of the four companies with the intelligence section. In attempting to rush a machine gun he and two others were killed. He was a great loss to us all, who admired his fearlessness, his energy and his devotion to duty.
Yours in deep sympathy, (signed) Lieut. Von Schovnhoven."
Sergeant Simeon L. Nickerson was awarded the Distinguished Service Cross, which according to Mertie Romaine's history was presented to his brother Horace E. Nickerson at the Army Recruiting Station in Bridgeport, Connecticut.
The Distinguished Service Cross citation reads "For extraordinary heroism in action near Epieds, France, July 23, 1918. Sergeant Nickerson, Corporal M.J. O'Connell and Private Thomas Ryan volunteered to cross an empty field in front of their company, in order to ascertain the location of enemy machine-guns. While engaged in this courageous enterprise they were shot and killed. The heroic sacrifice of these three men saved the lives of many of their comrades who would have been killed had the company attempted to advance as a whole".
(It was also reported that the fire of the German guns disclosed the enemy's position and every German in that detachment and the machine guns were obliterated).
As a part of Memorial Day exercises on May 30th, 1929, Middleboro town officials renamed Town House Avenue to Nickerson Avenue in honor of the Middleboro war hero.
Over the years, various members of Post 64 have questioned why the Medal of Honor wasn't awarded to those three heroes. In fact, in a column in the Middleboro Gazette in 1969, when the Post was celebrating it's 50th anniversary, it was written about the first meetings in 1919 "The local group, it was decided, would be organized as the Simeon L. Nickerson Post. This selection was made in recognition of Simeon L. Nickerson's gallant sacrifice of his life in battle; a deed which one charter member feels should have earned him national acclaim to that accorded Sgt. York."
By Bob Lessard, Post 64 Historian.
View more history for Post 64 in Middleborough, Massachusetts