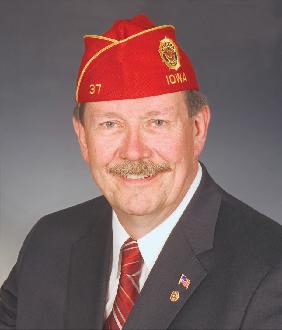 2008 – David K. Rehbein of Ames is elected national commander of The American Legion.
 He is the fifth Iowan to lead the nation's largest veterans service organization.
 A research metallurgist and U.S. Army veteran of the Vietnam era has been elected national commander of the nation's largest veterans organization.  Delegates to The American Legion's 90th National Convention here chose David K. Rehbein of Ames, Ia., to lead the 2.7 million-member organization of wartime veterans for a one-year term.
 Rehbein served as an infantryman with the 4th and 1st Armored Divisions in Germany from 1970 to 1971. After leaving the Army, he attended Wayne State College and Iowa State University, graduating with a Bachelor's degree in physics and a Master's degree in metallurgy. Following graduation, he accepted a position as research metallurgist at the Ames Laboratory, U.S. Department of Energy, a position he held until his retirement in July 2008.
 A member of Ames Post #37, he served as its commander and adjutant as well as 12 years as finance officer. He has been district commander and state vice-commander and represented Iowa on The American Legion's National Executive Committee. He served on many department committees, including Membership, Oratorical, Strategic Planning and Junior Shooting Sports. During his term as department membership chairman, Iowa achieved target membership three times in 1991, 1992, and 1993. He was appointed by Iowa Governor Vilsack to a position on the Iowa Commission on Veterans Affairs.
 Rehbein served on the National Americanism Commission 1989-99, with service as an instructor on the National Information Conference staff, conducting the judge's briefing for the National Oratorical Contests and as Match Director of the Junior Shooting Sports national finals. He has served as chairman of the National Foreign Relations Commission, Veterans Affairs and Rehabilitation Commission and the Legislative commission.
View more history for Post - Department Headquarters in Des Moines, Iowa